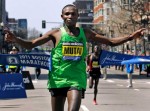 Geoffrey Mutai of Kenya ran the fastest marathon in history Monday when he ran the world's oldest marathon, the Boston marathon, in a record 2 hours, 3 minutes, 2 seconds erasing Ethiopian's Haile Gebrselassie, who ran the 2008 Berlin marathon in two hours, three minutes and 59 seconds.
However, the International Association of Athletic Federations (IAAF) immediately after the end of the race Monday determined that Mutai's time wasn't considered a world record because the Boston course is ineligible to set a record. IAAF requires that courses to start and finish near the same point in order to discourage downhill, wind-aided runs and the artificially fast times they can produce. Boston has a net decline of 459 feet, though the course is dominated by hills going up and down.
Still, Mutai will receive a $50,000 bonus for the world best and another $25,000 for the course record to go with the $150,000 he and women's winner, fellow kenyan, Caroline Kilel earned for the win.
Another Kenyan, Moses Mosop, finished second to Mutai.
Mutai becomes the 19th Kenyan winner in the past 21 years. The last American, man or woman, to win the Boston marathon was Lisa Larsen-Weidenbach in 1985.





(No Ratings Yet)


Loading...