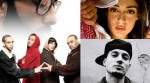 Many prominent Arab hip-hop artists inspired by uprisings in the Middle East and North Africa have released music in solidarity with protesters in the region. Though the messages of these new songs are not necessarily new to Arab hip-hop, the urgency and relevance of this new music has gained these artists increasing international attention.
While Arab hip-hop started to gain its recognition in the '90s, tracing back the history can be difficult in light of the fact that it stems from such a complex fusion of diasporic communities, people, art and culture. In North America, for instance, artists such as Fredwreck and The Narcicyst are cited as pioneers of Arab hip-hop, while groups such as DAM are credited with jump-starting the movement in Palestine.
In a conversation with Excentrik, an East Bay music producer, "actionist" (action activist and oud player), he explained, "Yeah, there's an Arab hip-hop scene, but it's a global scene, it's not like a localized scene. Unfortunately, there's not enough cats doing quality shit that have like a [single] place to go in any of these cities… It's an esoteric scene, it's random because it's so big and so spread apart." While there are certainly active indigenous Arab hip-hop scenes throughout much of North Africa and the Middle East, the majority of the most celebrated emcees in the global scene are based in North America and Europe, where hip-hop has had a longer history and faces less challenges in terms of censorship.
That said, artists still find opportunities to collaborate and work together across both national and international lines. "Most of us Arab rappers are very well connected," said Rush of Cairo's premier rap group, Arabian Knightz. Collaborations between rappers can be recorded from different studios and files can be shared with the click of a mouse. "The combination of hip-hop and the Internet, and the ability to record it and put it up online immediately and bypass all these typical media outlets and typical industry outlets is what makes it so powerful," explained Syrian-American rapper Omar Offendum in a phone interview from Los Angeles.
In North America, Iraqi-Canadian rapper, The Narcicyst and Omar Offendum are two of the most highly acclaimed emcees in the global Arab hip-hop scene. Omar Offendum often evokes the work of Arab poets through his lyrics, emphasizing the links between poetry and hip-hop. The Narcicyst, who recently released a book entitled "Fear of an Arab Planet: The Diatribes of a Dying Tribe," touches on themes ranging from Orientalism to homeland security in his music. One of his most popular songs, 'P.H.A.T.W.A.' released in 2009, is set in an airport. "We went from, supported to subordinate, can't afford it, ordered / My motherland smothered and mortared, morbid, at borders / I'm sorted out from beardless cats that boarded the plane as I was boarding," The Narcicyst raps.
The UK also boasts some of the world's most recognized Arab rap artists such as Lowkey, who is of British and Iraqi heritage, and Palestinian rapper, Shadia Mansour, also known as "The First Lady of Arabic Hip-Hop." Both are known for linking artistry and activism, rapping about topics such as Palestinian resistance, occupation and terrorism. "They calling me a terrorist / Like they don't know who the terror is / When they put it on me, I tell them this / I'm all about peace and love / They calling me a terrorist / Like they don't know who the terror is / Insulting my intelligence / Oh how these people judge," raps Lowkey in the song "Terrorist." Together, they have toured extensively and collaborated on titles such as "Long Live Palestine" which incorporates Mansour's distinctive Arabic flow and emotive singing voice.
Rapping in the Middle East
In Tunisia, a young emcee by the name of El Général was among the first in the Arab hip-hop scene to gain international attention for his raps related to the most recent waves of political unrest in the North Africa. He released two songs "Rais Le Bled" (President Your People Are Dying) and "Tounes Bladna" (Tunisia, Our Country) which were both included on the Mish B3eed mixtape put out by 'Enough,' a Libyan movement voicing dissent against the Gadhafi regime.
According to The UK's Observer newspaper, "Rais Le Bled," released in November 2010 "lit up the bleak and fearful horizon like an incendiary bomb," reaching audiences around the world through new media platforms such as YouTube. "My president, your country is dead / People eat garbage / Look at what is happening / Misery everywhere / Nowhere to sleep / I'm speaking for the people who suffer," he raps in Arabic. The song was quickly banned in Tunisia, but Al Jazeera Television and Tunivision were still able to pick up on the El Général story followed by other notable media outlets such as TIME magazine. Shortly thereafter, the release of "Tounes Bladna" (Tunisia, Our Country) resulted in the 21-year-old rapper's arrest from his family's flat in the town of Sfax in Tunisia. El Général was released after three days of interrogation thanks to an outpouring of public protest in his favor.
The January 25 uprisings in Egypt sparked a second wave of protest music from the global Arab hip-hop scene, fueling an outpour from prominent artists such as The Narcicyst, Shadia Mansour, Lowkey and Omar Offendum. This time, the songs would be multinational collaborations, incorporating news clips from Al Jazeera and photos from demonstrations in the music videos.
On February 4, just weeks after the January 25 demonstrations, Egyptian rap group Arabian Knightz posted the song "Not Your Prisoner" featuring Shadia Mansour, and Palestinian-American producer, Fredwreck on YouTube. Lyrics alternate between English and Arabic, opening the dialogue to a larger international audience. "Destructive destruction, running my district / Antichrist running it, spittin' evil wisdom!" raps Rush (one of three members in the group). The song became an instant YouTube success, accruing thousands of views within 24 hours of being posted.
When asked in a Skype interview about the role of their music in bringing about social change, Rush replied, "The people who started the revolution are teenagers. I doubt that the motive of the revolution, the music they were listening to while planning all these things, was 'habibi' music. I am sure it was hip-hop." The 'habibi' music Rush refers to can be described as sentimental, easy-listening pop that is widespread in Arabic media channels. That music, according to many Arab hip-hop artists, fails to address the real concerns of youth on the front lines of protest throughout the Middle East and North Africa.
The North American Connection
A few days later, North American artists The Narcicyst, Omar Offendum, Freeway, Ayah, Amir Sulaiman and producer, Sami Matar contributed to the dialogue with a collaboration entitled "#Jan25." The song, posted on YouTube, has drawn nearly 200,000 views, and even caught the attention of Al Jazeera, which interviewed Omar Offendum shortly after the song was released.
"I heard 'em say / The revolution wont be televised / Al Jazeera proved 'em wrong / Twitter has 'em paralyzed / 80 million strong / And ain't no longer gonna be terrorized / Organized – Mobilized – Vocalized / On the side of TRUTH," raps Omar Offendum in the opening verse of the song. The use of graphic Al Jazeera news clips and gorilla photography throughout much of the music video is illustrates the grassroots nature of the Arab hip-hop scene, using a combination of audio and visual media to communicate their message to a growing audience of listeners.
In the meantime, mounting tensions in Libya inspired 26-year-old Chicago rapper M. Khaled to release a music video entitled "Can't Take Our Freedom," featuring UK rapper, Lowkey. The first lines of the chorus, "You can't take our freedom, or take our soul / Take our freedom or take our soul / You are not the one that's in control / You are not the one that's in control," sum up the overall message of the song speaking to the Gadhafi regime.
"It was never my intention to be a political rapper, or write political songs," said M. Khaled in an interview with Arab Detroit News. Even so, this most recent release has become one of his most popular tracks to date. This song also seems to tie back to the legacy of his father, Mohamed Ahmed, who was reportedly held as a political prisoner in Libya for five years after leading student protests against the Gadhafi regime. "Like, could we be this close? Nah, couldn't be / But if the people in Egypt and Tunis could do this, decide their fate…then why wouldn't we?" raps M. Khaled.
Although the original music video for "Can't Take Our Freedom" was removed from YouTube for reasons that are not entirely clear, several fans have reposted the song using their own personal online accounts. In addition to gaining popularity online, the song attracted the attention of media outlets such as ABC World News and CNN that profiled the story of the young rapper.
The Solidarity Rap
Each of these new protest songs in their own way illustrates a collective consciousness around growing political unrest in the Middle East and North Africa among artists in the Arab hip-hop scene. Solidarity with protesters is the central theme that runs throughout much of this new music. This solidarity is also reflected in the collaborative nature of many of these pieces featuring hip-hop artists who are spread across different cities and continents. Even on a local front, Bay Area hip-hop pioneer Davey D released a "Beats for Revolution Mixtape" that features "Not Your Prisoner" and "#Jan25," alongside the sounds of Dead Prez, Public Enemy and Immortal Technique.
As political unrest continues to unfold throughout much of the Middle East and North Africa, many Arab hip-hop artists are optimistic, but cautious. "One thing governments cannot take away from the people is the will to live," wrote Lebanese-Armenian Bay Area rap artist Tru Bloo in an e-mail. "I think we, in the U.S., have a lot to learn from these movements," she added.
"There is a hopefulness and a sobering feeling," said Oakland-based Lebanese American soul singer, Naima Shalhoub, of the ongoing events.
Still, artists involved in the Arab hip-hop scene remain inspired by the significance that music has in motivating and empowering youth. "The way kids listen to music is a really powerful thing," said London-based rapper Logic after his concert at the University of California, Berkeley with Shadia Mansour and Lowkey last month.
Realizing the power that their music has to speak to youth in the face of adversity, Arab hip-hop artists do not take their work lightly. "Music plays a big role in influencing people," said The Narcicyst, "and I almost think for our generation… music speaks to us louder than politics does."
New America Media is the country's first and largest national collaboration and advocate of 2000 ethnic news organizations.





(No Ratings Yet)


Loading...