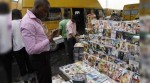 I have been dreaming of becoming a porn actor since a very young age. I live in the Ivory Coast and I am looking for a producer or a director to sign a contract and to be in a movie … I am relying on you to make my dream come true.
This is the advertisement that André (not his real name), a 21-year-old, posted on the Internet with his email address and cell phone numbers. This computer science student in Grand-Bassam — a town some 25 miles from Abidjan, the capital of Ivory Coast — is not unusual in Africa. Hundreds of young men and women in Cameroon, Democratic Republic of the Congo, Ivory Coast, Morocco, Nigeria, South Africa and elsewhere are all trying to join the pornographic-film industry in Africa or abroad.
The world pornography market (adult video networks, pay-per-view movies on cable and satellite, websites, in-room hotel movies, phone sex, sex toys, magazines and DVDs) is estimated to be tens of billions of dollars, according to Dan Miller, managing editor of XBIZ Premiere, a trade publication for the adult entertainment industry.
Warning that exact numbers are difficult to acquire because the vast majority of companies in the sector are privately owned, Miller says, "America's market is by far the largest in the world in terms of scope and revenue. It far exceeds the market in Europe. Based on the information we have, I would estimate the market in the U.S. to be in the neighborhood of $7 billion."
A Small Industry in Africa
By contrast, the largely Web-oriented African market is small but emerging. The leader on that continent would be South Africa, which hosted Sexpo, a public expo focused on all aspects of sexuality, in the second half of 2010. "The size of the entire adult industry in South Africa is said to be worth 60 million rand ($8.9 million), but that cannot be independently verified. It is probably the biggest in Africa.
Nigeria should be worth about half of that," says Tau Morena, co-founder of Sondeza ("Bring it closer" in isiZulu), an African adult online network with more than 39,000 members (almost half of them South African) and an average of 7,000 unique visitors daily.
Why hasn't the African pornographic sector taken off? Morena blames video piracy, which he says that most governments are not really interested in curbing: "In South Africa in the '90s … about a million units were sold per annum, but now with the onslaught of piracy, roughly 150,000 units of all titles are sold on average, and the numbers keep declining."
Another brake is legislation. Producing — and sometimes even possessing — pornographic material is illegal in several African countries. And yet pornographic content is increasingly available in Africa, mainly because of greater access to the Internet and to foreign channels that broadcast adult movies.
A Growing Market
That content is also increasingly sought after. "There is a strong demand from the lower and upper middle classes that have equipped themselves with communication and video equipment (PCs, modems, webcams). There is also international demand: Nigeria, home to one of the world's largest domestic film-production industries, "exports videos and makes different types of content it later puts online on Internet portals," says Philippe Di Folco, the French author of the Dictionnaire de la Pornographie.
Foreign demand explains why "African actresses become specialized in different forms of pornography in Europe," says Cameroonian activist Amély-James Koh Bela, who monitors the pornographic sector. She identifies two porn-film companies, Concorde and Maeva, as the top providers of "special black" pornography that floods the Internet.
In the meantime, the underground amateur African pornographic sector keeps growing. More than that: Koh Bela says that three major cities in her home country (Douala, Yaoundé and Kribi) have been turned into porn-filmmaking centers where some actors boast about what they do for a living.
Alex (his name has been changed) has long been proud of his job. The young Cameroonian with an Afro hairstyle directed a handful of movies and founded a company he called Sexe Images Nature Africaine to "create jobs and fight local prostitution — less profitable than pornography." He also starred in two short movies and was paid 1,500 euros ($2,100) for both by a producer based in France. This was all before he retired from the business because he "found God."
"Super sexy cute South African porn star"
South African Palesa Mbau is not likely to be retiring anytime soon. The 23-year-old auditioned for a movie cast through Sondeza.com about a year ago. "The idea of creating a local film was inspired by our members, who asked us to produce something 100 percent local and relevant to our market," says Morena, who produced the film. "We asked for members of the website to come forward and be part of this experience, as there are no professional porn stars in South Africa."
There were more than 1,000 candidates (mainly men) from all walks of life. Mbau was chosen, along with four other amateurs — two women and two men — for Mapona ["naked" in Sesotho], Volume 1, which has sold some 5,000 copies since its release last September. "I am getting proud because it is a black [pornographic movie]," says Mbau. "That is raising black empowerment because the porn films that you [commonly] see in South Africa are all white."
Is Mapona a turning point in the pornographic career that she started three years ago for "personal reasons"? One thing is for sure: The light-skinned actress, who met high-profile representatives of the adult industry at Sexpo, is determined to get somewhere in the X sector. "I have a full-time job in a call center, but I see my future over there. … I do not have any problem saying that," she says.
Mbau has already tagged herself "super sexy cute South African porn star" on the Facebook fan page she opened at the end of 2010, and where she today has some 2,200 fans. The woman with a teenage voice from Midrand, in the northern province of Gauteng, is using the page to make a name for herself and share sexual feelings and jokes with her fans.
She is also building a reputation with her website, where she posted some explicit pictures of herself and where she sells private shows to "high-class clients." For instance, the rates for "personal photos and video — additional" range from 500 to 1,000 rands (from $75 to $150), depending on whether she has to provide a cameraman.
Exploitation, Human Trafficking and Health Risks
No wonder, says Koh Bela, that some African youths see pornographic actors as examples of success — all the more because some manage to earn far more money with one film than the average African does in a month. What these young people do not always know, though, is that big money is rare in this sector. Besides, the threat of human trafficking — the third most widespread criminal activity worldwide, according to the United Nations — is worrying in some countries.
Around 5 percent of the victims of human trafficking identified in Western and Central Europe are of African origin, mainly coming from "West African communities, in particular Nigerian women and girls," according to "The Globalization of Crime — a Transnational Organized Crime Threat Assessment," (pdf), a report released in June 2010 by the United Nations Office on Drugs and Crime. "Studies of Nigerian victims report that acquaintances, close friends or family members play a major role in the recruitment of victims. … The vast majority of West African women and girls are exploited in street prostitution."
Are the victims exploited in the pornographic sector, too? "When a child is caught in a network, the human trafficker exploits it in every possible way," states Anne-Sophie Faysse, project leader at the French branch of ECPAT, an international network fighting child sexual exploitation. "You can find cases of rape; prostitution, which is much more visible; and pornographic-material production. In this last case, this is almost exclusively cyber pornography [photos, movies]." Adults — women, for the most part — may also be trapped.
Koh Bela, who is president of Mayina, a French association against human trafficking, indeed warns that human traffickers do not hesitate to force some victims into extreme forms of pornography, such as bestiality. "Some young women or mothers of victims told us that Western tourists, for the most part, rented villas where they organize private parties," says Koh Bela. "They make the girls drunk and drug them before giving them to the dogs for hours of sexual intercourse. At the end of the party, the girls can earn 150,000 FCFA [about $325]."
Like some of their Western counterparts, African actors are also exposed to serious health risks. The use of condoms is often not allowed during shoots, and HIV testing is not always compulsory. This can add to the AIDS burden of Africa, where 22.5 million of those living in sub-Saharan countries are already infected, according to the latest Joint United Nations Programme on HIV/AIDS (UNAIDS) global report. Tau Morena insisted that the use of condoms be visible in each sex scene of Mapona and in his next movies, including Mapona, Volume 2, which is scheduled to be released in a few months.
"Better" Opportunities Beyond Africa?
The Ivorian André does not really think about the risks. He is still focusing on building a career that he believes will get him and his family out of poverty. Fela shares the same motivations. A native of Benin and mother of a 5-year-old girl, she says that she earns $200 to $300 a month when business — organizing special events in nightclubs — is good, and sometimes as little as $100. So she has decided to combine business and pleasure.
"I love all that goes with eroticism, sex and seduction," says Fela, who lives in Lomé, the capital of neighboring Togo. "It is like second nature. My friends circulate amateur sex videos of me free of charge, and I hope that one day, someone will pay attention to me and call me for a shoot."
Hers may not be the best approach. "I spoke several times by email with so-called directors who had seen my ads," says André. "In the end, they asked for pictures of my penis. I sent them and never heard from them again … "
Diana, 28, has managed to avoid such tricks. Just like Fela, she is a single mother struggling to make a decent living for her 11-year-old child. Just like Fela, she wants to work in pornography "for pleasure and money." Still, the Cameroonian, living in Bata, the second-largest city in oil-rich Equatorial Guinea, is determined to wait for a better opportunity — and it may not be in Africa. "I remember an Ivorian film shot in the bush," she says. "Everything looked dirty. There were flies everywhere … Western movies look classier to me."
Koh Bela, who is the author of Mon Combat Contre La Prostitution ("My Battle Against Prostitution"), confirms that observation. She has reviewed hundreds of African sex films, some of which are sold in Château Rouge, a neighborhood of Paris with a strong African presence. "The rare movies with African actors that have good production values have been directed by European producers — among others, French, Dutch and German," she says. "After having flooded the Internet, these movies are finding a place in the DVD market, while African-produced movies are usually so poor at every level that big producers will never distribute them."
This may explain why some youths attend informal pornographic classes. "There are initiation circles in Douala and Abidjan," Koh Bela reveals. "In dedicated apartments, young women watch movies to learn every kind of caress, sexual positions and Western-style pornographic techniques. The 'teachers' do not hesitate to show the girls how to do things right. … They also test men's and women's abilities."
Is this the best way to enter the sector? Not necessarily, according to Philippe Di Folco. "The amateur quality is what buyers want," he says. "Today, consumers value the effect of realism because it is like they are voyeurs of private scenes, present in the bedroom or in the spot where the sexual intercourse is taking place."
Meanwhile, André relies on the visual experience he got perusing movies and magazines. He also counts on luck. When he shares his aspirations with his male friends who also want to become porn actors, they find hope in their fellow Africans who have had the opportunity to perform in adult movies in France.
New America Media is the country's first and largest national collaboration and advocate of 2000 ethnic news organizations.





(No Ratings Yet)


Loading...