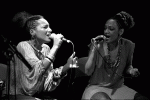 If you want to hide, just cut your hair short, sing Hélène and Célia Faussart, aka Les Nubians, in the funky number, Afrodance, from their latest album, Nü Revolution. The Paris-born sisters will perform at the Dakota Jazz Club this Thursday and Friday evening with hair that is anything but short.
Célia spoke with Mshale by phone last week, explaining, "It's not only about having a specific cut it's more about the way we see Black people and nature." Western preferences often dictate that women of African descent fashion their hair according to unnatural styles.
By wearing one's hair in its natural afro, Célia believes, "It's more accepting who you are and showing who you are the way you are and not the way they (non-Blacks) want you to be." Her statements are strong regarding as personal a subject as hair and she and her sister have the conviction as well as the dynamic hairstyles to claim them.
They began performing in the 1990s at a time when finding musicians to accompany them was difficult. Rather than allow themselves to be relegated to anonymous back-up singers, they chose to sing a cappella.
Their musical acumen grew as they performed in Paris, France, the land of their father, and in Africa. Their mother is Cameroonian. "I'm grateful in both cultures," says Célia. "I feel at home in both. We're mixed and we grew up with both cultures. So we always grew up in harmony on both cultures," says the younger of the two sisters.
Not only with their music do they make public statements, but also with their time and status as international musicians. They work to benefit charities such as Cameroonian group Sid'ado (Adolescents against AIDS). Célia adds, "We are good mothers, helping to benefit a magazine about cultural identity, Respect.

"In our family, our father always said, the biggest wealth and key I can offer you is to travel and we got to growing up," says Célia the mother of an 11 year old son and a daughter, one year younger. Hélene's daughter is the youngest of the three cousins who have traveled with their mothers when not in school. Between touring, charity work, and living internationally, they have found a way to continue the gift of their father as they give likewise to their children.

Les Nubians

Time: Thursday, May 12, 2011 – 7:00pm
Friday, May 13, 2011 – 7:00pm
Cost: $40
Venue: Dakota Jazz Club
Phone: 612-332-1010
Address: 1010 Nicollet Avenue,
Minneapolis, MN 55403

Susan is based in Minneapolis and reports on general assignments for Mshale with a focus on entertainment. In addition to reporting, she is also a writer, poet, teacher and coach.





(No Ratings Yet)


Loading...