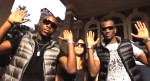 Togolese musical sensation, Toofan, will bring their act to the Twin Cities on Saturday with a performance in Brooklyn Center at the Miracle Empowerment Center. Concert time is listed as 8:00 P.M.
The duo of MASTER JUST (Fantohou Kossi) and BARABAS (Mensah Blaise) known for their addictive auto-tuned mix of hip hop and Afropop, have been warmly received during their US tour. The group came to national and international prominence in 2006 after Togo's national team affectionately referred to as Les Eperviers (the Sparrow Hawks) qualified for soccer's world cup. Toofan's 2005 album "Epervier Obragada" then became the team's national anthem.
Since their debut album, they have released two other successful albums, Confirmation and Carte de Visite in 2006 and 2009 respectively. Their latest album is Truc de Fou.
Also appearing on stage with the Toofan duo on Saturday June 18 will be two other Togolese musicians, RX Patou and Mary Kim.
Soccer
The Togolese soccer team in Minnesota is hosting a Toofan Soccer Tournament earlier in the day to be held in Plymouth (Douglas Drive & HW 55 W). According to Roger Fortunat in a newsrelease, the tournament will feature, besides Togo, Cameroon, Liberia and Nebraska's Togolese team.
Kickoff is at 1:30 P.M. on Saturday.
The Toofan duo will be on hand to present the trophy to the winning team.
Concert Info: 612-598-6141
Soccer info: 612-554-5055





(No Ratings Yet)


Loading...