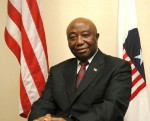 The Vice President of Liberia, Joseph Boakai, will Friday, June 17, pay a one-day working visit to Minnesota at the invitation of the African Career, Education & Resource, Inc. in conjunction with the Liberian Ministers Association, and the Organization of Liberians in Minnesota.
While in Minnesota, the Vice President will hold bilateral talks with state, government, and educational officials to support Liberia's development agenda. Moreover, Vice President Boakai will be continuing previous discussions, on securing investment opportunities for Liberia, started by President Ellen Johnson Sirleaf during her visit to Minnesota in 2009 and completing ongoing sister city negotiations between Minneapolis and Saint Paul. He will also meet with the dean of the Humphrey Institute of Public Affairs and other University of Minnesota officials, and receive update on efforts to extend DED (which expires on September 30) for Liberians from volunteers of the Coalition for Permanent Residency (CPR) at the Minneapolis Urban League. Scott Gray, president of the Urban League, will welcome Vice President Boakai.
The CPR has already delivered a letter signed by more than 120 organizations from around the country asking President Obama for an extension of the legal status of Liberians on DED. While the infrastructure in Liberia continues to improve, there remains a great amount of instability in the country and its neighbor, the Ivory Coast, says Vic Rosenthal, executive director of the Jewish Community Action, and a leading CPR member. "Vice President Boakai will speak about the strong ties between Liberia and the United States, and the importance of immigration policies that recognize the needs of both countries."
Mr. Boakai will later be the honored guest at a reception, where he will participate in a Great Conversation Forum with the community, and will give some perspectives on Liberia – 'then, now, and tomorrow'.
"Liberia faces many tough challenges and Vice President Boakai's message on engagement and patriotism is that every Liberian regardless of age, ethnicity, religion, and political persuasion has an important role to play in helping the country to overcome obstacles to its progress," says Sando Wayne, Senior Policy Advisor in the Office of the Vice President.
During the reception, beginning at 7:00 p.m. at the Community Activity Center, 5600 85th Avenue, in Brooklyn Park, guests will enjoy an assortment of hors d'oeuvres and a cash bar. The conversation with the Vice President will commence promptly at 8:00 p.m.

Wynfred Russell is a former faculty of the Department of African American & African Studies at the University of Minnesota-Twin Cities, where for six years he taught African history and culture. He has also taught African history and multicultural education at North Hennepin Community College and Century College. Russell is currently the Director of Normandale Community College's Center for Multicultural Services. 





(No Ratings Yet)


Loading...