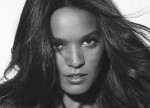 The Miami Herald is reporting that international model-actress Liya Kebede has been named the "new face" of L'Oréal. Kebede's career began when she was in high school in Addis-Adaba, Ethiopia. Scouted by a modeling agency, she left Africa for France at the age of 18, and top-level international designers like Tom Ford, then the artistic director for Gucci, quickly hired her.
Since then, her elegance and her beauty have been seen at Fashion Weeks around the world, and she has been featured on covers of international fashion magazines (Vogue, Flair, I-D), emerging as a key figure in the fashion industry. Kebede has also appeared in several films, including 2006's The Good Shepherd and Desert Flower in 2009.
In addition to her beauty, Kebede is a goodwill ambassador for the World Health Organization, for maternal, neonatal and infant health care. Her commitment was such that, just a few months later, she established the Liya Kebede Foundation, raising money for the Durame Hospital in Awassa, Ethiopia, with the goal of providing health care material.
Full Story @ Miami Herald.





(1 votes, average: 5.00 out of 5)


Loading...