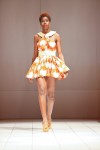 NEW YORK – The spirit of Africa came alive at the 2nd Annual Africa Fashion Week (AFWNY) in New York which ran July 14-16. Held in the heart of the big Apple's financial district, AFWNY was a muti-day event which included runway shows, vendor exhibits, and industry networking events with the stated purpose of raising awareness of African Fashion/professionals.
New York based Adiree, producer of AFWNY, showcased three full days of showcasing designers from the African Diaspora.
This year's AFWNY gave talented designers the opportunity to promote their brands on a global fashion stage. Thirty handpicked designers from different parts of Africa including Angola, Nigeria, Liberia, Cameroon, Kenya, Ethiopia, Cape Verde and Zimbabwe were featured.
The Runway segment was kicked off with a live wedding on the runway for We TV, a new reality show, airing January 2012. The bride walked down the runway wearing a design by Korto Momolu. Following Momolu were designers Kikoromeo, Gloria, Rouch, Blackbird Design, Syl Anin, Bebe Grafiti, Kachi Designs, Jo Black Craze, Bill Witherspoon, Asakeoge Couture, Washington Roberts, Danielle Martin, Fikirte Addis, Mirembe Collection, Josefa Dasilva, Kozby World, Exdexus Creations, Suakoko Betty, Nadir Tati, Editalo Designs, Tori, Sarfo of Styles, Design by U, Csilla Deri, Yashika, AAMAA a la mode, Adama Paris, Mary- Ann Kai Kai, Saint Wobil.
From the beautiful custom clothing designs to the vibrant colorful jewelry and shoes, the designers made a concerted effort to show their originality and by most accounts they pulled it off.
Beatrice is a contributing writer at Mshale.





(No Ratings Yet)


Loading...