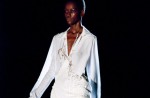 As one might expect from its rock-star provenance, EDUN offers altruism with an edge. But although U2 frontman Bono and his wife, Ali Hewson, founded the label to buttress the languishing economies of Kenya, Uganda, and Mali, it's shied away from making its African connection too literal in its clothes. At the Spring/Summer 2012 show at New York Fashion Week on Sunday, however, Sharon Wauchob, a year into her creative directorship under Louis Vuitton Moët Hennessy, appears to have belayed that order by presenting one of EDUN's most "ethnic" collections to date.
Despite a profusion of shells, feathers, horn, and demure African floral prints, Wauchob's third outing at the helm has lost none of EDUN's cool-girl-in-school verve. In an apparent attempt to overcompensate, however, EDUN makes unlikely bedfellows of fishnet mesh, parachute drawstrings, and oversize curtain grommets (the type you'd pick up in packs of eight for $12.99 at your neighborhood Jo-Ann). Overall, the impression is of someone trying too hard, although the coordinating bicycle bloomers, we'd allow, are a pleasant and unexpected touch. Some of the tailored separates (a boxy hemp/recycled-polyester gabardine, a pressed front-tie oxford shirt) are even work-appropriate.
If anything was amiss, you couldn't tell from the looks of the captive audience, which included bold-faced luminaries like Christy Turlington, Michael Stipes, Courtney Love, Naomi Campbell, Sting and Trudie Styler, and Helena Christensen in the front row.
Full story @ Ecouterre.





(No Ratings Yet)


Loading...