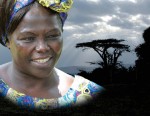 Nobel Peace prize winner Wangari Maathai of Kenya has died after a long battle with cancer. Kenyan press reports say the first African woman Nobel Peace laureate passed away in Nairobi on Sunday, September 25 at 10:00 P.M. local time.
Kenyan media attributed the source as the Greenbelt Movement organization of which she founded in 1977.
The Greenbelt Movement said in a statement that her death was a great loss for those who knew and admired her "determination to make the world a more peaceful, healthier, and better place."
Wangari Muta Maathai was born in Nyeri, Kenya in 1940. The first woman in East and Central Africa to earn a doctorate degree. Wangari Maathai obtained a degree in Biological Sciences from Mount St. Scholastica College in Atchison, Kansas (1964). She subsequently earned a Master of Science degree from the University of Pittsburgh (1966). She pursued doctoral studies in Germany and the University of Nairobi, obtaining a Ph.D. (1971) from the University of Nairobi where she also taught veterinary anatomy.
She became chair of the Department of Veterinary Anatomy and an associate professor in 1976 and 1977 respectively. In both cases, she was the first woman to attain those positions in the region. Wangari Maathai was active in the National Council of Women of Kenya in 1976-87 and was its chairman in 1981-87.
It was while she served in the National Council of Women that she introduced the idea of planting trees with the people in 1976 and continued to develop it into a broad-based, grassroots organization whose main focus is the planting of trees with women groups in order to conserve the environment and improve their quality of life.
Professor Maathai, as she was fondly referred to by friends and admirers, is survived by her three children Waweru, Wanjira, and Muta and a granddaughter, Ruth Wangari.
Testimonials are being accepted at her Facebook page while funeral arrangements will be announced soon, according to the Greenbelt Movement.





(No Ratings Yet)


Loading...