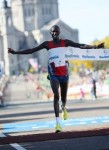 Sammy Malakwen, of Kenya, has won the Twin Cities Marathon with a time of 2 hours, 13 minutes and 11 seconds. The 33-year old resides in Twin Harbors, Minnesota.
In the women's marathon, 23-year old Yeshimebet Tadesse-Bifa of Ethiopia, finished tops with a time of 2 hours, 28 minutes and 24 seconds.
In the 10-mile race, Mo Trafeh of Morocco won with 46:46 finish. The 26-year old Moroccan lives in Duarte, California. With his win, he takes home a bonus of $10,000 on top of the $12,000 prize money for finsihing first among all runners (men and women). Women this year were given a seven minute head start in the race to equalize the chances of winning the $10,000 bonus.
Kenyan, Janet Cherobon-Bawcom, 33, sealed teh fate of this year's Twin Cities Marathon as an African affair when she won the women's 10-mile race with a time of 54:15. She lives in Rome, Georgia.
Saul Mendoza of Wimberley, Texas,won in the wheelchair division.
Race officials were expecting 19,000 to participate in this year's 30th edition of the Twin Cities Marathon.





(No Ratings Yet)


Loading...