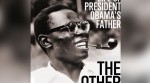 His son is the most powerful African-American in history, but his story, you will find, is even more fascinating. Barack Obama Senior was a man who was too much for this world – too intelligent, too charming and too idealistic.
In utter contrast to his son, Obama senior was a man whose public image was politically incorrect and rebellious – he said and did as he wished, often without regard for his safety or his future. In the end, he died young, having only met his now-famous son once. New America Now Host Shirin Sadeghi spoke with Sally Jacobs, journalist and author of the biography The Other Barack: The Bold and Reckless Life of President Obama's Father.
New America Media is the country's first and largest national collaboration and advocate of 2000 ethnic news organizations.





(No Ratings Yet)


Loading...