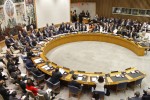 West African countries today called for enlarging the 15-member Security Council to give their continent its due representation on the United Nations body whose decisions are legally binding, as opposed to the recommendations issued by the 193-member General Assembly.
They also voiced full support for mediation as a means of pre-empting crises, the theme of this year's Assembly annual general debate.
"Negotiations for Security Council reform must be intensified with the adoption of a precise timetable for their conclusion," Foreign Minister Nassirou Bako-Arifari of Benin told the Assembly, proposing 2015 as the target date for giving Africa permanent representation on an enlarged body.
"It is time to put an end to this intolerable injustice which excludes a whole continent Africa, the only one, from the supreme decision-making body on international security."
He also called for reinforcing the operational capacities of the UN and regional organizations to face the world's multiple crises. "At the global level we believe in the virtues of multilateralism; that's why we have even more need for a UN which must be entrusted with a more decisive role in world governance, a UN which will be the spearhead for actions that will promote, within a framework of inclusion, lasting global solutions to all types of crises," he said.
Mr. Bako-Arifari also appealed for international help to fight piracy that has recently intensified off Benin's coast in the Gulf of Guinea.
Foreign Minister Djibrill Yipènè Bassolé of Burkina Faso said his country had been engaged for more than a decade in efforts to reform the UN "to allow it to conform with the exigencies of a world that is in full transformation.
"For Burkina Faso, reform must take into account the interests of all Member States and increase the effectiveness of our Organization in handling peace and security, stability and development in all parts of the world," he said.
With regard to mediation he cited the role of Burkina Faso's President Blaise Compaoré in helping to resolve crises in Guinea, Côte d'Ivoire and Togo.
Mauritania's Foreign Minister Hamady Ould Hamady called for Security Council reform that would include permanent representation for Africa and the Arab Group. "The Security Council must fairly reflect the will of the entire international community," he said.
He also noted that organized crime, such as kidnapping, terrorism, and drug, weapon and human trafficking, had been expanding for many years in the Sahara region, posing a threat to peace and stability. In cooperation with neighbouring countries, Mauritania had put a stop to the activities of those terrorist groups and made it impossible for them to move freely, he added.






(No Ratings Yet)


Loading...