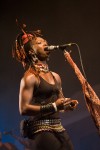 A full moon will shine down on Minneapolis and rich melodic talents of Dobet Gnahoré will shine on stage at the Dakota Jazz Club & Restaurant on Thursday, November 10th. With more than a dozen years of performance to her credit, Gnahoré returns to the Twin Cities with a new album to promote and new depth in her music to share.
With sounds from her first country, Ivory Coast, creating her foundation, Gnahoré has layered a panoply of African rhythms and genres to her repertoire.The result is truly pan-African. With her French-born husband adding his acumen, the music of Gnahoré blossoms into authentic World Music.
"I've always composed my songs myself, in partnership with Colin Laroche de Feline, my husband, who's also the guitar player of my band," Gnahoré tells Mshale in an email correspondence.
She explains further how she writes her lyrics in French and then translates them to other African languages. Later, the melody line is added. "I like to proceed this way because for me it's also a great opportunity to value the beauty and diversity of all those different African languages," she says. The complexity of the individual languages can be found in their distinct melodies.
With Gnahoré's latest album, Djekpa la Yo, she tackles a variety of contemporary issues such as the environment and child welfare. "Everyday events that happen around me have also a great influence in the way I compose," Gnahoré says, "and Nature as well, as illustrated by Kokpa, the song I wrote that deals with the issue of deforestation in the world."
Gnahoré's music evokes spontaneous dancing. The musician spent time as a member of the illustrious dance company, Tché Tché, and uses not only her voice and the band's instruments to convey the music, but her body as well.
With awards from BBC Radio 3 and a Grammy tucked on her shelf at home, Gnahoré has many winning songs to entertain her audience. Thursday night at the Dakota will be saturated in new music as well.An excited Gnahoré tells us,"en fait, j'aime tous les titres de cet album."If the composer and presenter of the album loves it, surely the audience will, too.
Dobet Gnahoré at the Dakota Jazz Bar & Restaurant, Thursday, November 10, 7:00 p.m., $30 per person.To purchase tickets: go here 1010 Nicollet Avenue, Minneapolis, MN 55403
Susan is based in Minneapolis and reports on general assignments for Mshale with a focus on entertainment. In addition to reporting, she is also a writer, poet, teacher and coach.





(No Ratings Yet)


Loading...