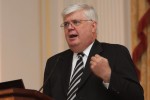 Doing business in Africa and how education and workforce development intersect will be the subject of a high level conference on December 7 at the University of Minnesota's Carlson Global Institute.
The conference seeks to highlight the importance of doing business in Africa and the connection between economic development, education and the establishment of democracy.
The conference is free and open to the public.
More than a dozen Minnesota companies do business in Africa including Medtronic, Cargill and General Mills.
Organized by Books for Africa and The University's Carlson Global Institute, the conference will feature Stephen Hayes, the CEO of the influential Washington based Corporate Council on Africa which is co-presenting the discussion.
In 2010, Minnesota exported $184 million worth of merchandise to Africa, led by machinery, agricultural products, and computer and electronic products, according to the Corporate Council on Africa which promotes trade between the U.S. and Africa. South Africa and Egypt were the top two destination countries in Africa. The 2010 number was an increase of $20 million from 2009.
Last year, the total stock of U.S. foreign direct investment in Africa was $53.5 billion. This total was a $10 billion increase (new investment flows) from 2009.
In total, the U.S. exported $28.3 billion worth of merchandise (an increase of $4 billion in merchandise from 2009) and $11.8 billion worth of services to Africa in 2010.
With the increased trade in the continent, the International Monetary Fund (IMF) estimates that gross domestic product in the 47 countries of sub-Saharan Africa rose 5 percent last year and forecasts growth of 5.5 percent in 2011.
At next week's conference, other panelists joining Mr. Hayes will include Trevor Gunn, senior director of international relations at Medtronic; Michelle Grogg, senior director of corporate responsibility at Cargill, and Hussein Samatar, executive director of the African Development Center. The moderator is Srilata (Sri) Zaheer, interim dean and Elmer L. Andersen Chair in Global Corporate Responsibility at the Carlson School.
The conference will be in Room 2-206 at the University of Minnesota's Carlson Global Institute located at 321 19th Avenue South, Minneapolis.
More info at Books for Africa.

Miriam is a general assignment reporter at Mshale.





(No Ratings Yet)


Loading...