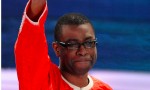 "For a long time, men and women have demonstrated their optimism, dreaming of a new Senegal," so declared Grammy award winning Senegalese singer Youssou N'Dour as he announced his candidacy for president of Senegal on Monday.
Elections are less than two months away.
"They have in various ways called for my candidacy in the February presidential race. I listened. I heard," N'Dour said in a statement broadcast on Senegals' TFM a television and radio network he owns. His broadcast networks reguarly lambast the excesses of government.
N'Dour joins 20 other candidates running against incumbent President Abdoulaye Wade who has been in power for more than ten years. Wade, who is 85, set off a storm in the country when he announced plans to run for a third term circumventing the two term limit. Street protests took place in the capital Dakar last year when Wade attempted to have the constitution changed so his son could succeed him instead. He eventually backed off the plan.
N'Dour won a Grammy in 2005 in the World Music category.





(No Ratings Yet)


Loading...