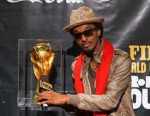 Most people with any interest in soccer know that the FIFA World Cup was held for the first time in Africa in 2010 in South Africa. While Mother Africa was disappointed that one of her teams did not win the cup, it was nonetheless not a total loss for Africa. The event did popularize two things African: The loud vuvuzelas and a little-known Somali rapper named Keinan Abdi Warsame.
The would-be rapper was born and raised in Mogadishu, Somalia, left his war-torn country at age 13 for Harlem, New York, did a brief stint in Minneapolis, Minnesota before settling in Toronto, Canada. Here he learned English, horned his skills in poetry and Hip Hop, and adopted the stage name K'Naan.
Whereas Colombian-born singer Shakira's song Its' Time for Africa was tapped as the official FIFA World Cup anthem, Coca-Cola – one of the premier sponsors of the event—placed its bets on K'Nnaan and his Hip Hop flavored song Wavin' Flag. K'Naan released a remixed version of the song baptized "Wavin' Flag Coca-Cola Celebration Mix" specifically for use during the 2010 FIFA World Cup. Coca-Cola played the song at all its World Cup trophy tour events around the world and featured K'Naan.
It was also used on television and radio commercials worldwide as the music element for the entire campaign. Call it luck or destiny but this would become the break-through game changer for K'Naan. Many people probably understand that South Africa was chosen because it was one of the few African countries that had the facilities and resources to successfully host an event of this magnitude.
However, there are those who would ask: In the midst of African music heavyweights such as Youssou N'dour, Angelique Kidjo, Hugh Masekela, Alpha Blondy and many others, why K"Naan? Why Hip Hop? Is this even African music?
Being Somali in itself was a selling point for K'Naan. Somalia has been a global news staple: war, political turmoil, violence, terrorism and piracy on the high seas have been closely identified with this East African country, which has not had a central government for more than 20 years. Then, along comes a Somali rapper who not only conveys his experiences in Hip Hop—probably the most globally-pervasive music platform—but also delivers his lyrical potency in English: one of the most international languages. It also adds more pack to the punch that K'Naan is eloquent, borderline controversial and charismatic. Coca-Cola quickly and smartly figured that, coupled with the fact that the most popular sporting event in the world was happening in Africa, K'Naan's attention-grabbing story was fresh and unconventional.
K'Naan's story had the potential to attract media and public attention and thus benefiting Coca-Cola's marketing efforts tremendously. The choice of Wavin' Flag, I believe, was perfect because the song had a beautiful melody and a simple, catchy "nursery-rhyme" style chorus that soccer fans from any country could easily customize to suit their needs. All they needed was a dose of patriotism, a team to support and a flag to wave.
<object width="430″ height="248″><param name="movie" value="http://www.youtube.com/v/WTJSt4wP2ME?version=3&amp;hl=en_US"></param><param name="allowFullScreen" value="true"></param><param name="allowscriptaccess" value="always"></param><embed src="http://www.youtube.com/v/WTJSt4wP2ME?version=3&amp;hl=en_US" type="application/x-shockwave-flash" width="430″ height="248″ allowscriptaccess="always" allowfullscreen="true"></embed></object>
Coca-Cola's decision to go with Hip Hop, the music of choice among a large percentage of the world's youth, may have been partly a result of the fragmented and regionalized nature of African music: there just isn't a single artist, music genre or style of music that transcends the continent. This, combined with the fact that an overwhelming percentage of soccer fans in Africa and across the world is youthful, made strategic sense for Coca-Cola.
Due to Hip Hop's pervasiveness and growing influence among the youth of the world, it has become a force that big-business money cannot ignore. Spurred by media outlets such as MTV Africa, cell-phone technology and social media, Hip Hop is steadily becoming a homogeneous youth culture stubbornly diffusing to, and increasingly being embraced by even the tiniest and most remote villages of the globe. Hip Hop also provided the high-octane fervor that best lends itself to soccer fanaticism. The Hip Hop aspect, and K'Naan's intriguing story, provided Coca-Cola with the perfect knock-out punch and in the process, made K'Naan the ephemeral flag bearer of the African continent.
Coca-Cola was looking for an African artist and a song that could help endear soccer fans across Africa and around the world to its products. It found that in K'naan and Wavin' Flag. The campaign was highly successful by any standards. The single Wavin' Flag Coca-Cola Celebration Mix hit the music charts in the top 5 spot in Netherlands, Norway, Italy, United Kingdom, Ireland, France, Canada, Spain and Scotland. It reached number one in China, Mexico, Germany, Canada, Austria, Switzerland and Luxembourg.
Troubadour, K'Naan's second album from which the single was extracted, peaked at the number 12 position on the U.S. Billboard Top Rap Albums. With the success of Coca-cola's campaign and the single, K'Naan, almost overnight, became an international sensation. With all the fame and fortune that followed, Somali-born Keinan Abdi Warsame was transformed to international star K'Naan, the provisional face of Africa during the 2010 FIFA World Cup.
George Ndege, commonly known as "Jojo" is a Minneapolis based writer and music promoter with Kilimanjaro Entertainment.





(No Ratings Yet)


Loading...