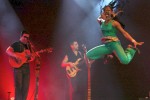 Two months ago I attended a show by Dobet Gnahoré and her entourage. I'm still waiting for a gig equally as impressive. She performed on November 10th, 2011 at the Dakota Jazz Bar. A packed audience was treated to over 16 polished numbers.

The Dakota's commitment to carrying musicians from all over the world and especially Africa—Gnahoré's from Ivory Coast—shows up on their calendar. While not frequent enough for the Twin Cities' large population of African-born residents, a steady flow of African music can be heard at this venue. February 15th and 16th features South African trumpeter Hugh Masekela. Two months later, Vieux Farka Touré from Mali performs.

Other venues reveal similar cultural leanings. The Cedar Cultural Center relishes their reputation as a world music stage. This month, Aar Maanta will bring his Somali music on January 26th. Along with the Walker, the Cedar will host Seun Kuti—son of the late, famed Fela Kuti—to perform in mid-April.
The Blue Nile Ethiopian Restaurant & Lounge in Minneapolis, occasionally books African acts as does The Varsity Club and the Walker will open their McGuire Theater doors for musical acts of the African diaspora.

But like I said, I haven't seen anything since that compares to Gnahoré's show last year. Over a dozen years ago, Dobet Gnahoré performed with the immutable dance troupe, Tsché Tsché, which performed in Minneapolis several years ago.

Although Gnahoré no longer dances with them, she has not lost her jaw-dropping dance moves. She has ropes of muscle in every limb and uses them on stage looking effortless. But when her feet fly above her head repeatedly and she sings at the same time, it's not effortless. When her body leaps through the air and lands prostate in the center of stage, only to spring upright without missing a note, it's not effortless.

Gnahoré fills the hall with passion and compassion. One song I remember in particular, prefaced with, "This song is for my continent, for my country. I'm tired of the politics in my country, tired of those who don't do anything." Her heartfelt songs, sung in many languages, evokes the love she has for her people and her family.

Along with the seriousness of her music, her playfulness shines, too. A call-and-response with the audience, a number that begins with sign language, a selection that includes Gnahoré picking an mbira or thumb harp, and the driving dance of her entire body makes this show unforgettable.

I'm eager to see the next African act that can compare.
Susan is based in Minneapolis and reports on general assignments for Mshale with a focus on entertainment. In addition to reporting, she is also a writer, poet, teacher and coach.





(No Ratings Yet)


Loading...