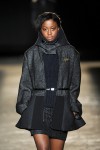 NEW YORK — Fashionistas shivered visibly on Sunday in a makeshift event space along the blustery Hudson River, where the Edun fashion label, founded by U2's Bono and wife Ali Hewson, was displaying its Fall 2012 collection. But the models wore bright, African prints that made one feel, at least momentarily, in a much warmer clime.
Among the most striking fashions: A graphic zebra print in a shoulder dress, draped prettily over one shoulder, or a silk safari print shirt dress, or a springbok (gazelle) silk twist dress, or an electric blue leopard-mix print dress.
Zebra, leopard, safari, springbok: The images don't seem particularly suited for fall or winter on a cold city sidewalk. But Edun designer Sharon Wauchob explained that she was trying to marry the African roots of the collection with an edgy, urban, even punkish feel.
"I was trying to show the modernity of Africa, connected to an urban environment," she said backstage. Or, as the program noted: "The Edun girl … has taken her punk rock roots on safari."
One way to achieve her desired effect, Wauchob said, was to provide body-hugging shapes for her colorful prints. Another means of contrast was in Wauchob's outerwear, which was often oversized and boxy — a big charcoal wool jacket, for example, over a silk zebra-print jumpsuit, or a very chunky two-tone turtleneck sweater, shown over a lacquer-printed kilt skirt.
Edun was founded by Bono and his wife in 2005 to "bring about positive change through its trading relationship with Africa," according to the label. Of the 37 outfits displayed for the Fall/Winter 2012 women's collection, 29 of them included garments that will be produced in Africa.
Hewson was in the front row on Sunday, along with Julian Lennon and iconic model Helena Christensen.
And though the shivering in the audience produced some concern for the coatless (mostly) models, they actually were the lucky ones: They dressed backstage in deliciously toasty heated tents.





(No Ratings Yet)


Loading...