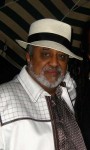 Forbes has released its list of the world's billionaires and six black people appear on it. Five of the six are from Africa or have strong roots there. Only one is American and it is media magnate Oprah and she is the only black female on the list.
Mohamed Al-Amoudi at # 61 with $12.5 billion is the richest black person and is a Saudi national that was born and raised in Ethiopia before moving to Saudi Arabia at 19. He has replaced Nigerian Aliko Dangote (now at #76 with $11.2 billion) as the richest black person in the world.
Thus, two of the six are Nigerians, the other Nigerian being Mike Adenuga at # 248 with $4.3 billion.
South African Patrick Motsepe comes in as the 4th richest black person at # 442 on Forbes the Forbes list. Oprah is 5th but also at # 442 as she ties Motsepe at a worth of $2.7 billion each.
Mo Ibrahim rounds off the list at number 6 with a Forbes ranking of 1075. He is a British national born in Sudan. His worth is put at $1.1 billion.
The full list can be found on Forbes.





(No Ratings Yet)


Loading...