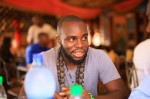 Hot chicks, pimped-out rides, MTV cribs, $300 sneakers, fame, and fortune as portrayed on American Rap videos is a life many aspiring rappers dream about. The "cheddar" as money is sometimes referred to in Rap lingua,is so plentiful, it sometimes rains from above.
These lavish images beamed around the globe courtesy of BET, MTV, VH1 and other media outlets are as enticing to aspiring American rappers as they are to their African immigrant counterparts, who for the purpose of this article I will refer to as the African rapper ? whether born of immigrant parents or migrated to the U.S. at a young age. The question I have heard asked quite a few times is: What are the chances of an African rapper making it in America?
With no intention of derailing anyone's American dream, this is as tough a task as they come, and more so to the African rapper. But, if Barack Obama was able to beat all odds to become the first African American to hold the most powerful office on the planet, what is it that can stand in the way of the African rapper making it big? Let me just deal with the language issue upfront and assume that since the upcoming rapper came to the US as a child or was born here, accent is not a communication barrier because this has proved to be a major stumbling block for rappers who move to the U.S. at an older age.
Rap, which is part of the Hip Hop culture, is deeply rooted in the community. Rappers are generally identified with the "hoods" (neighborhoods) they hail from. They represent regions such as east coast, west coast and the south; or a neighborhood such as Compton, Queens or Brooklyn. Traditionally, budding rappers have sharpened their skills by doing rap battles on street corners and other neighborhood hangouts and in the process develop a fan base and name recognition or "street credibility." The hood also avails an underground market for mix tapes, t-shirts and other Hip Hop merchandise and grooms upcoming rappers and producers before they venture to the outside world.
Major record labels have discovered some of their most successful rappers in the underground Hip Hop world. Chamillionaire is believed to have sold 200,000 mixtapes in his hometown of Houston, Texas, before being signed by Universal Music Group. Lil Wayne and 50 Cent are two other successful rappers who also found their way to the top on a similar route. Record labels prefer proven "hustlers" who have already horned their skills, made a name and established that they can move records.
Considering that the African immigrant community is not homogeneous, has no specific neighborhoods and is thinly dispersed throughout the United States, the African rapper is essentially devoid of a hood to represent. What then is the path to the top?
The answer may lie in cyberspace. Technology has provided a limitless, borderless market that just a few years ago did not exist. It is now possible, albeit with hard work, focus, patience and unique creativity, for the African rapper to create a "cyber-hood" from which to woo potential fans. The internet, especially social media sites such as Facebook, CD Baby, YouTube and Amazon have become game-changers for independent artists to the point where some are achieving international success without big record labels backing them up. However, an online presence does not compensate for lack of artistic creativity or ambition, one must first and foremost be a serious artist. Rap is a form of expression and artists who can tell their own unique African story have a better chance of succeeding.
Emmanuel Jal, a former child soldier, has captured international headlines by using Hip Hop to tell the story of his native Sudan. M.anifest, a Ghanian based in Minneapolis and Dallas-based Kenyan Dezyne, are two African rappers who have not only used the "cyber-hood" to their advantage but have also done so by distinguishing themselves by telling a uniquely African immigrant story. K'Naan, a Canadian rapper of Somali descent and Wale, an American rapper born of Nigerian parents are probably two of the most successful African rappers. They not only boast of major music label deals, they also roll with the big fish of the Hip Hop world.
The "cyber-hood," backed up by artistic creativity, focus, ambition and a uniquely African story, is the game-changer for the African rapper. It can be done. There are millions of Africans in America and around the world who are waiting to hear that unique African story that no American rapper can tell. What I must emphasize is that there is no room for an African rapper trying to be a "Compton storyteller." He/she cannot tell that story as believably and convincingly as a Compton native can and thus comes across as a wannabe.
George Ndege, commonly known as "Jojo" is a Minneapolis based writer and music promoter with Kilimanjaro Entertainment.





(No Ratings Yet)


Loading...