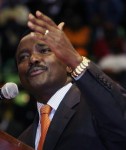 The vice-president of Kenya, Kalonzo Musyoka, is slated to visit the United States beginning Saturday, May 19th and has scheduled a number of town hall meetings with Kenyans in the states of Texas, Georgia, Minnesota and the District of Columbia, according to the Embassy of Kenya in Washington, DC. The states are among those with high concentrations of Kenyans.
The Vice president is part of the coalition government currently in power in Kenya. He was appointed Vice-president and Minister for Home Affairs by President Mwai Kibaki on January 2008, positions he has held since. He has also been a member of parliament for the Mwingi North constituency for 25 years.
The 58 year old Mr. Musyoka is also patron of the Kalonzo Musyoka Foundation.
Mzalendo, a Kenyan website that tracks the performance, accountability and effectiveness of Kenya's members of parliament has an extensive outline of the career of the vice-president.
The scheduled town hall meetings are as follows:
Massachussets: Friday 18 May, 2012 from 6:00pm to 9:00pm – Marriot Boston Newton, 2345 Commonwealth Avenue, Newton, MA 02466
Texas – Saturday 19th May from 4:30pm to 8:30pm – Hilton Dallas Lincoln Center, 5410 LBJ Freeway, Dallas TX 75240
Georgia – Sunday 20th May from 4:00pm to 6:00pm – Doubletree Hotel, Windy Hill Road, 2055 South Park Place, Atlanta, Georgia, 30339
Minnesota – Monday, May 21 from 6:00pm to 8:00pm – Doubletree Hotel Bloomington, Minneapolis South, 7800 Normandale Blvd, Bloomington, MN 55439
Washington, DC – Tuesday 22nd May from 5:30pm to 7:30pm – Kenya Embassy
The town hall meetings are being coordinated locally by the Kenya Diaspora Advisory Councils (KDAC) of the individual states.
Brookings Institution – Tuesday, May 22nd from 1:30pm to 2:45pm: Kenya in Transition: A Conversation with Vice President Stephen Kalonzo Musyoka. To RSVP.
Coveted Vote
Under the new constitution the country enacted two years ago, Kenyans living abroad will for the first time be allowed to vote outside of the country starting with the next elections in March 2013.The diaspora vote has hence become coveted like never before. Prior to their being able to vote, the diaspora support was solicited mostly for the influence they commanded back in Kenya.





(No Ratings Yet)


Loading...