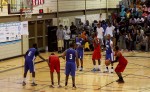 Minnesota's Via Roma beat Ohio 59-39 to retain the "Hoop 4 Hope" basketball championship for a second consecutive year. The "Hoop 4 Hope" is a weeklong tournament celebrating Somali National Week.
Via Roma's win capped a week of exciting basketball that this year was complemented by a variety of entertainment activities. The 'Danto", a special Somali dance was performed on day one of the tournament to kick things off. The dance was performed by Young Achievers, a Somali youth group.
Congressman Keith Ellison of Minnesota's congressional district was among the dignitaries that graced the tournament.
Tournament organizers who have run the tournament for the last decade termed it a success and have decided it is time to take it on the road.
Toronto
Toronto will host next year's tournament, the first time it will be held outside of Minnesota, with an eye for other cities to host it in future years as well.
The tournament which was incident free for all of the days despite the increased turnout this year was however marred by a gunshot that was fired hitting an innocent bystander. The victim was discharged from the hospital the same night with non life threatening injuries.





(No Ratings Yet)


Loading...