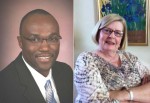 Planning for the 25th anniversary celebration of Books for Africa are now underway with the naming of Doris Pagelkopf and Tom Gitaa as co-chairs of the anniversary committee charged with the planning of the historic celebration.
At its last meeting, the board of directors gave its blessing for planning to resume for festivities next year that are expected to attract attendees from around the globe. The celebration will take place in the fall of 2013.
Books for Africa is the largest shipper of donated school text books to Africa and was founded in 1988 by Tom Warth. It is headquartered in St. Paul, Minnesota with its main warehouse in Smyrna, Georgia.
Pagelkopf and Gitaa are both former board chairs of the organization. She is currently Chief Staff Officer of The United Ways of Minnesota and practices as a nonprofit consultant. Gitaa is the founder and publisher of Mshale.
At its last big celebration in 2008 to mark 20 years, Books for Africa had by then shipped 20 million books to Africa. It has kept up the pace and is now shipping just over a million text books each year.

Miriam is a general assignment reporter at Mshale.





(No Ratings Yet)


Loading...