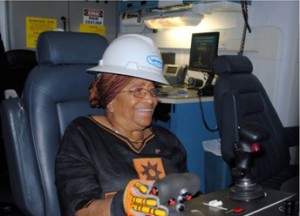 The Organization of Liberians in Minnesota (OLM), in collaboration with the City of Brooklyn Park, will host a consultative community forum on the establishment of a national oil policy for Liberia, on Saturday August 18, in Brooklyn Park, Minn.
The event begins at 6 p.m., at the Community Activity Center (5600 85th Ave., Brooklyn Park, MN 55443).
Organized by the National Oil Company of Liberia, also called NOCAL, the Minnesota forum is part of a series of Liberian Diaspora stakeholder consultations scheduled to take place in five major U.S. cities, including Washington D.C., Providence (Rhode Island), Philadelphia (Pennsylvania), and Atlanta (Georgia).
The purpose of the gathering is to facilitate a robust discussion, where the contributions of Liberian stakeholders in Minnesota will help influence a national oil policy that will reflect a more inclusive participation and painstaking deliberations.
A four-man NOCAL delegation is expected to arrive in Minnesota Friday to participate in the event. The team will include Israel Akinsanya, Vice-President for Public Affairs, Renee Wright, a financial analyst, Sam Jackson, a consultant, and Jake Kabakole, an advisor to the board.
To ensure that the voices of the Liberian Diaspora are reflected in the evolving new Liberian oil policy, OLM Executive Director, Wayne Douglas Doe, said it is critical that Liberians in Minnesota show up and offer their best suggestions, "especially on a development that could become our nation's most viable economic asset.
The forum will be divided into three parts: presentation, Q &A, and nine break-out sessions, lasting over two hours. OLM is determined to create an environment that fosters the exchange of diverse, constructive ideas.
"We expect a minimum of 150 participants from all walks of life, including leaders of county organizations, alumni associations, faith-based institutions, among others", Doe added.
After 50 years of explorations, Liberia finally discovered oil deposits in some parts of the country in February. Although the Liberian government has expressed its determination to use the deposits to the maximum benefit of all Liberians, the country's current oil policy is widely regarded as a patchwork, lacking substance, especially a coherent national strategy to address the development agenda of communities in which exploration is a promising possibility.
According to NOCAL officials, the outcomes of forums in the Liberian Diaspora will be included in a national draft report, which will subsequently be presented to President Ellen Johnson-Sirleaf for approval.





(No Ratings Yet)


Loading...