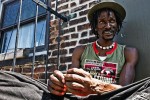 Earlier this month, singer Ahmed Janka Nabay was milling about the Brooklyn warehouse concert venue 285 Kent. In the crowded, windowless confines of the space, he stood out. Mr. Nabay is tall and sinewy, with pencil-thick dreadlocks. And at age 47, he had a good 25 years on most of the crowd. Also, he was probably the only person in the room who hailed from the rural Temne region of Sierra Leone.
As Mr. Nabay and his bandmates took the stage, they began to play an upbeat, bubbling type of music known as "bubu," a traditional style in Sierra Leone played at religious processionals during the month of Ramadan, typically rendered on batteries of drums, bamboo horns and discarded car-exhaust pipes. In this particular iteration, though, Mr. Nabay was supported by an electric guitar, bass, Acetone organ and electronic drums. He introduced his band as the Bubu Gang: with Syrian backup singer Boshra Alsaadi, British guitarist Douglas Shaw, and others hailing from locales that, in Mr. Nabay's elocution, suddenly sounded exotic: Hawaii, Nebraska, Milwaukee.
"We are all different, but this is how we play bubu music," he said. "Brooklyn, just give me a chance and rock to this song." The young crowd, once standing stock still, soon gave itself over to the percolating, kinetic rhythm.
During the 1990s in Sierra Leone, Mr. Nabay was a bona fide pop star and cultural ambassador—among the first to record and sell bubu music. During his country's civil war, he filled stadiums and conferred with United Nations representatives. When the war came to a close in 2002, he made his way to the United States, putting his music on hold as he worked through a string of menial jobs on the East Coast, from frying chicken to washing garbage trucks.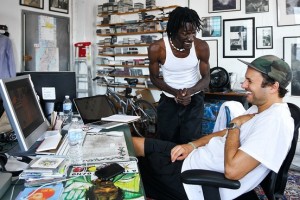 A decade later, Mr. Nabay is marking the release of his first American album (after four popular cassettes in his country), the bright and ebullient "En Yay Sah," which was released on David Byrne's esteemed Luaka Bop imprint on Aug. 7. He'll celebrate the release on Thursday night with a performance at the Museum of Modern Art.
Like many of his countrymen, Mr. Nabay started out playing "popular music" forms like funk, American R&B and reggae, avoiding African music altogether. "My father didn't want me to play music," he said at the Luaka Bop offices on the Lower East Side, the morning after the 285 Kent show. "I then lived with my brother in Freetown and he wanted me to be a mechanic. But instead I learned hundreds of Bob Marley songs."
When civil war broke out in neighboring Liberia in 1992, an influx of refugees spilled into Sierra Leone. Strangely, producers for "SuperSound," a Liberian talent competition, also came. They wanted local musicians for the program, and wondered aloud why no one played Sierra Leonean music, only Western music. So when he went to audition, rather than sing Bob Marley, Mr. Nabay tried a different tack.
"I had one bubu song," he recalled, clapping and singing: "'Everyone dance to the bubu music.' And right there they pick me. They say go to the studio, buy stage outfits."





(No Ratings Yet)


Loading...