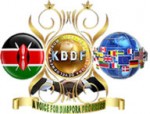 The Kenya Diaspora Development Forum of Minnesota (KDDF) has scheduled an official launch for this coming Sunday, September 2 at Brookview Park in Golden Valley at 3:00pm. It is one of two groups in the state jostling for effective representation of the large number of Kenyans resident here. The other is the Kenya Diaspora Advisory Council of Minnesota (KDAC), known for its current petition to the Kenya government to make voting possible for the Kenya Diaspora as provided for in the new constitution the country adopted two years ago.
Key KDDF interim officers were originally in KDAC but moved on as interests diverged. Prominent among those who moved on is KDDF's Secretary, Benson Metho, who takes exception to community perceptions of competition between the two groups. He prefers to see KDDF as "as a new avenue for the pursuit and realization of the Kenyan communities cherished values, ideals and aspirations."
A slick KDDF flyer sent to Mshale proclaims "A Great Outdoor Family Season Ender" as part of the launch and invites families to come out for a "fun-filled day" to celebrate "Community Progress". A free barbeque and jumping castles for the kids is planned.
The launch event's theme is "Building a Progressive Diaspora Community".
A press release the group sent to Mshale indicates that the launch will also feature the presentation of Community Service Awards to Kenyan community organizations and individuals that "have performed exemplary roles and made a significant contribution to the social and economic experience of the Kenyan community in Minnesota." The launch event coordinator, Cyrus Keriago, said the service awards are meant to demonstrate the group's commitment to "community progress."
National Cohesion and Integration Commission
Interestingly as KDDF and KDAC strive to win the hearts and minds of Kenyans in Minnesota, KDDF's launch comes on the eve of a visit by the National Cohesion and Integration Commission (NCIC) to Minnesota. NCIC is a statutory body in Kenya enacted by an Act of parliament following the post election violence that rocked Kenya in 2007/08 and has been associated mostly with the policing of 'hate speech'. At the time of this writing, the visit to Minnesota by the NCIC is set for Monday, September 3 led by its chairman, Mzalendo Kibunja.
Meanwhile, Eric Yancy, President and CEO of the non-profit Extended Family Network will be the launch event's keynote speaker, according to KDDF. His address will center on the launch event theme of "building a progressive Diaspora Community".
KDDF Launch
Sunday, September 2, 2012
Brookview Park, 200 Brookview Parkway, Golden Valley, MN 55426
Free event
www.kddfgroup.org





(No Ratings Yet)


Loading...