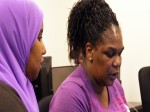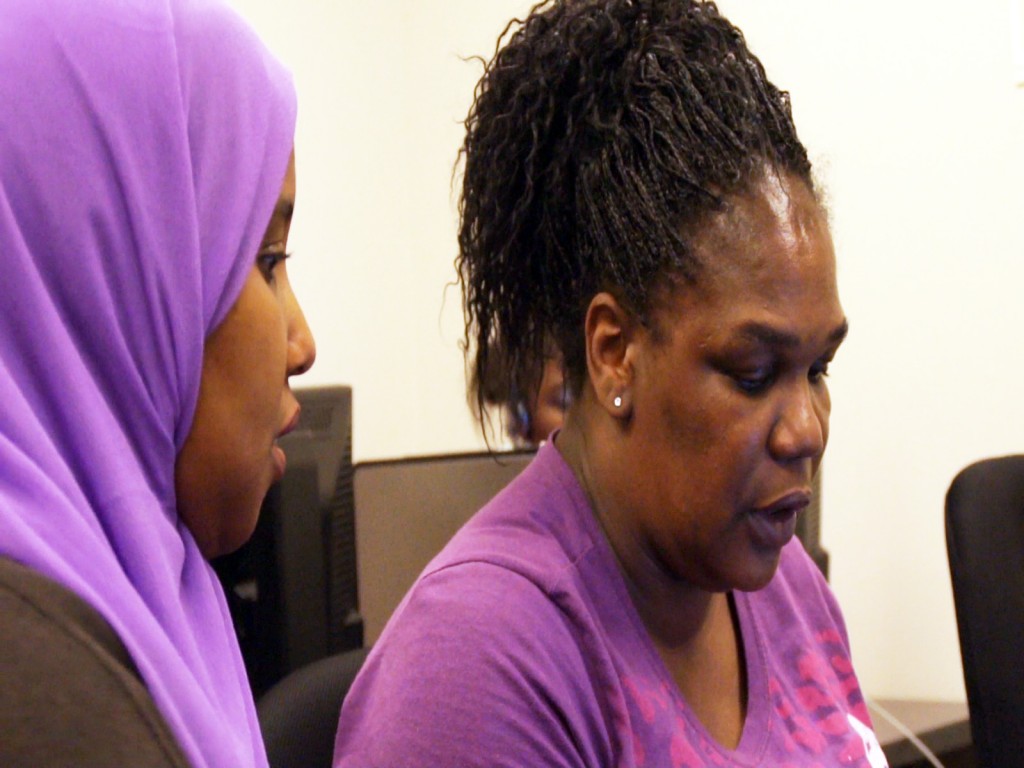 "It is my first time to touch computer and I am very happy," exclaims Zulfa Fara, an older Ethiopian immigrant currently using a public computer center developed through the Broadband Access Project (BAP), a program of the University of Minnesota's Urban Research and Outreach-Engagement Center (UROC). In response to the growing digital divide among underserved communities in the Twin Cities Metro, the BAP was developed to increase broadband access, awareness, and use in four federally designated poverty zones in Minneapolis and St. Paul. This project is funded through a federal grant from the Broadband Technology Opportunities Program.
Fara, mentioned above, was working at the Minneapolis Public Housing-Glendale lab, located at 92 SE St. Mary's Avenue, when she was interviewed. This lab is one of 12 new or enhanced community-based BAP public computer centers in Minneapolis and Saint Paul. While this is one of the smaller centers – with only five computers – it is still having a significant impact.
Kadra Abdi, the University of Minnesota Broadband Access Project Apprentice who works at the Glendale center,  explains how the small size allows her to make strong connections with clients, "We're a small center so we don't have a lot of training but we assist people in other ways. We give them one-on-one assistance; we sit with them as they're trying to learn basic computer skills." Larger BAP computer labs offer technology training with trainings covering topics such as Microsoft Office, financial support, social media for business use, and even Internet programming and design.     Through these trainings and the assistance offered in each lab, the BAP aims to help people develop to meet the increased technological demands of today's world. People of all ages find that computer use at these centers plays a large role in their everyday life. Abdi taught Fara how to set up and use an email account so she can communicate in the workplace and with loved ones all over the world. Fara explains how valuable this tool has become to her, "I'm so happy, believe me or not, because I send to my kids email to Ethiopia, to Africa, and they send me back. In the job place also they send me. It's a big knowledge I get, big knowledge, oh so happy."
Deshawn King, a regular visitor to the center, uses the computers to do homework and submit schoolwork. She is pursuing her Certified Medical Assistant degree from a local college and appreciates that there is no time limit on BAP computers, unlike those at the public libraries. "You don't get but an hour at the library and you have to let somebody else get in," she says, "here I'm able to get a lot in. Whenever I have to do homework and submit it I'm able to do it over here. There's a lot of lab work and stuff that we have to look up." Because her schoolwork requires a lot of time and effort having a computer center staffed with helpful employees keeps her motivated. It's easy to tell by the look in her eyes that even though the work is hard, King is highly determined. "I come here every day, every day because the work that you have to have for college is persistent. I don't know what I would so without it, it would be very hard to submit my work," she explains.
Not only does the center supply a beneficial resource to those with more professional pursuits, it also provides a way for young people to feel connected and involved with their peers through social networking sites such as Facebook and Twitter. Kadra covers the variety of ways access to a computer can be helpful to community members saying, "[People will come in] if they want to learn how to type or open their first email account, or if they just want to come in and build a resume and other things like job research, cover letters. If they want to set up a Facebook account if they've never done it before or try to figure out how to use YouTube. Those are just some of the things we can help with for our clients."  Building their technology skills leads to greater employability and begins to close the digital divide.
The positive effects of this program are tangible. In the six months she has worked at the center, Abdi has been able see the lab make strong impacts on people's lives. "I had people who came here and the computer lab helped them get a job because they were here to do their resume, they were able to pull a resume together from the start and apply to jobs here and after that got a job somewhere. So that was a really good thing to see," she explains. Fara sums it up best, "We are happy, not only me, other people here. When we need help, it's good to learn." "
For more information or to find a computer lab near you visit www.bap.umn.edu, call 612-625-BAP1 (2271), or email bap1@umn.edu..





(No Ratings Yet)


Loading...