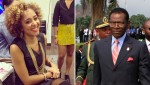 Actress and sometimes MTV host Amanda Seales says she knew "absolutely nothing" about Equatorial Guinea when she received an invitation to the Leon H. Sullivan Foundation's biennial summit, held last week in the tiny African nation. The 31-year-old has acted in a Nickelodeon series, hosted on MTV, released music, poetry, and visual art, and earned a master's in African American studies from Columbia University. It's easy to see why the Sullivan Foundation, an organization dedicated to continuing the work of social activist and religious leader Leon Sullivan, decided that Seales had something to add to what their promotional materials describe as "a gathering of the African Diaspora."
And it's just as easy to see why Seales, who has never visited Africa, might have jumped at the opportunity, especially after running an internet search for pictures of Equatorial Guinea, a coastal nation with a population of only 600,000. "There's this beautiful island, and there're white sand beaches," she told me. "And I'm like what, that's where we're going? And I'm told we're going with the government, so we'll be taken care of."
That last part ended up being a problem for Seales. Some time before the summit, an aunt alterted her to the Equatoguinean government's record of human rights abuses. Seales, worried that attending might help legitimize an oppressive, autocratic government, cancelled.
Had Seales accepted, she would have joined a long and prominent list of celebrities who have appeared on behalf of dictatorial governments. In 2009, Sting performed for the daughter of the dictator of Uzbekistan, for which he was reportedly paid between two and three million dollars. (Two years later and perhaps chastened by the international backlash, he canceled a concert in Kazakhstan over its suppression of workers.) In 2011, Beyonce Knowles and Hilary Swank made paid appearances at a New Year's celebration for one of the sons of Muamar Gaddafi and a birthday party for a Chechen warlord, respectively. As the Washington Post put it at the time, "A raft of Western entertainers and celebrities, including Mariah Carey, Usher, Beyoncé and Sharon Stone , have hired themselves out to some of the world's most odious human rights abusers, their children or close associates."
Full Story @ The Atlantic





(No Ratings Yet)


Loading...