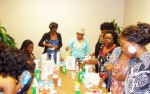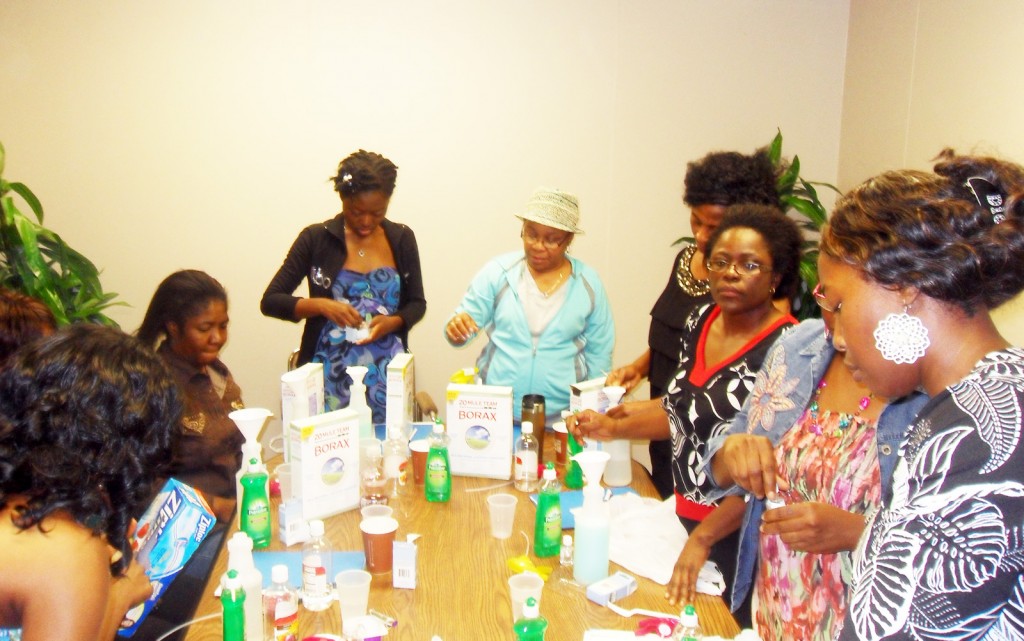 The Minnesota African Women's Association (MAWA) this past  summer, engaged women from different parts of Africa across the Twin cities, in a series of training programs and activities that  made the summer very enriching.
On Saturday August 18th 20012, about fifteen women from different African countries attended a two- hour training program at the MAWA office conference room in Brooklyn Park, Minnesota.
The training, which is part of the "Community Power Project", was funded by the Solid Waste Management Coordination Board. The focus was health-related: Smart choices: Creating Non Toxic Environments for Children.
At the training session, female community leaders from different African communities were trained on how to effectively educate women groups in African communities to make smart choices when using cleaning products that contain harmful chemicals at home. Participants at the training, were from various health and human service professions, and came from African countries, like Cameroon, Liberia, Nigeria and Togo.
Mostly made up of nurses, dental hygienists and social workers from across the Twin cities, the participants learned and engaged each other in information sharing on how best they can each transfer the knowledge and skills gained, to their respective communities in a culturally competent manner.
According to one of the participants, Mrs. Maureen Tambi, the most exciting and educational part of the training was the hands-on Activity session where the women learned how to make non toxic cleaning products by themselves. She said the training provided both useful information on how to avoid toxic chemicals at home and a skill set on how to make homemade cleaning supplies that are cheap and environmentally friendly.
Julia Earl, the trainer and presenter of the Smart Choices session said that the training was both useful and timely because of the increase in children's exposure to toxic materials, especially from cleaning supplies used at home. She added that the prevalence of some illnesses like; autism and hyper activity in children have now been associated with exposure to toxic chemicals.
Commenting on the fact that the group consisted mostly of health professionals, Julia said it was an added advantage because the women grasped the knowledge faster and engaged each other in really resourceful conversation.
But the Smart choice training session was only one of the several other programs MAWA is offering this summer. On August 11th 2012, MAWA sponsored a Shoulder-to-Shoulder training for parents of Amakolo participants and other African refugee and asylee community leaders.  "Shoulder to Shoulder" is an approach that teaches parents some innovative ways of dealing with their teenage children.
Last year, the training session was offered only to MAWA staff that in turn carried the message to the various African communities. This year however, thanks to more funding, MAWA extended the training to involve leaders of community based organizations. Participants came from Somalia, Sudan, Liberia and Cameroon and in the course of the training; these parents learnt that the best way to deal with their teenage children, is through Positive Parenting.
The Positive Parenting approach is where one the parents are warm, supportive and encouraging while being firm, consistent and clear with limits and boundaries. The training is particularly important to African mothers because due to cultural differences, child up bringing in America has now become a little more challenging.
A third workshop offered by MAWA was a health-related one for young people. MAWA is offering the nationally acclaimed curriculum, BART: Becoming A Responsible Teen, to 180 African teenagers. This training targets teenagers from African immigrant families and its first session begins  August 28th through the 31st. MAWA's objective for this program is to respond to a growing need.
Explaining the structure of the program to Mshale, Nambangi of MAWA noted that the BART program is gender based. There will be groups of 8 to 15 teenagers for girls and another for boys. Also commenting on the relevance of the program, she said that with the rise in teen pregnancy among African teenage girls, such a program is not only necessary but urgent. Statistics from the Minnesota HIV/AIDS Surveillance System on the prevalence of HIV/AIDS among African teens also reiterates the urgency for such a program that responds to building HIV/AIDS awareness as well as teen pregnancy prevention education.
A total of 144 girls and 36 boys are anticipated to benefit from the program. While three African Community groups have already indicated their interest in having their teenagers go through this training,  MAWA is willing to extend the program beyond its own AGILE participants to include more teenagers from  two more African community groups. Leaders of teen initiatives in African communities are encouraged to put together groups of 12-15 girls and boys and register with MAWA.
The program runs until June 2013.
Ken Forbin is a Mshale contributing writer based in the Twin Cities.





(1 votes, average: 4.00 out of 5)


Loading...