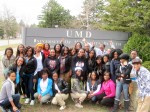 It is often said that "when you educate the man, you educate the family but when you educate the woman, you educate the community." This adage epitomizes the importance of education for the girl child.
In the United States today, the importance of a college education in improving the wellbeing of refugee and immigrant communities cannot be over emphasized. It is in this backdrop that the Minnesota African Women Association of Minnesota (MAWA) organized a 3-day college tour to six colleges in Minnesota and North Dakota for girls from the African immigrant and refugee communities of the Minneapolis and St. Paul metro area. The six colleges visited included Saint Cloud State University, College of Saint Benedict, St. Joseph; University of Saint John's, Collegeville; Minnesota State University of Moorhead; University of North Dakota, Fargo, and University of Minnesota Duluth.
In all, twenty-nine girls participated in this second edition of the MAWA college tour that took place from March 25th to March 28th, 2012. The girls are part of MAWA's AGILE (African Girls Initiative for Leadership and Empowerment) program, an after-school program run from eight schools and community sites in the Minneapolis and St. Paul metro area.
The college tour is intended for African immigrant girls who are new to the American education system. The program prepares them in understanding the college application process. They also receive information on how to select and finance their college education. For those who have been admitted into colleges, it helps them take a closer look at their college choices and provides options to those who are yet to decide.
Meeting with the Admissions and Financial Aid staff at each school, the girls got firsthand information on how to seek admission into each school, how to get grants, loans, and other forms of financial aid. The girls appreciated learning of diversity and first generation college student scholarships. The participants also heard from other African students in the respective colleges on how they deal with tuition cost barriers.
The girls were encouraged to send in their applications to any of their college choices without being deterred by tuition costs. As the staff and students at each school spoke glowingly of their schools. With each college stop, the AGILE girls found each school gave them a reason to love it as each school's tour guide provided in-depth information on college life and personal experience.
One guide spoke of having changed her major six times, another spoke of the experience of being free of staff and parental pressure to attend class, do her school work and how she changed and started managing her time more responsibly after getting a fail grade. Another advised the girls to choose their classes based on whether they are "a morning person" or not and others spoke of meals, extra-curricular activities, shops and hairdressers catering to African tastes, etc.
They also learnt of the deep personal side of college. During a panel discussion, members of the panel spoke of loneliness, missing their families, and missing "seeing people who look like them on some campuses" and how they eventually found others through associations, multi-cultural centers and so forth. Others advised the girls to apply for scholarships no matter how small the amount may be because "any little amount makes a difference." The girls were also informed that there are other scholarships available in the colleges to those who are already students and that they should speak with advisors first before taking out student loans.
Aside from the excellent academic programs and extracurricular activities, other aspects of these schools appealed greatly to the girls – the library system and computer services at St. Cloud State University, the all girls St. Benedict's remarkable Study Abroad program, the health and wellness center and high values of the all-men St. John's, the access to resources at both Minnesota State University Moorhead and North Dakota State University at Fargo, whose proximity to each other surprised the girls and with the University of Duluth, the view on arrival and the attention paid to diversity were all additional attractions.
The girls paid closer attention to Dr. Diomo Motuba, a West African lecturer at Minnesota State University Moorhead who advised the girls to go to college since that was going to make their life easier in the future. Meeting African students such as the panel at St. Ben's which had a Ghanaian, Ugandan, Somali, Tanzanian and Ethiopian, and meeting past AGILE participants like Baraka at Duluth made the girls feel more at home in these colleges. Seeing the dormitories and hearing the experiences of living in the dormitory and other on-campus housing also helped them decide what kind of housing to consider as they decide on college attendance.
According Ms. Melissa Nambangi, Executive Director of MAWA, the AGILE program is MAWA's pride and joy. For Ms. Nambangi, the AGILE program has been able to motivate girls whom some had written off as being uninterested in education, difficult to work with and understand, and generally expected to not go to college due to unintended pregnancies and other cultural barriers. The college tour has been instrumental in educating, informing, and assisting AGILE participants in charting successful pathways towards post secondary education.
AGILE was started in 2004 as a response to appeals from African parents for MAWA to help their daughters adjust to life in the United States and from schools concerned with cultural obstacles to the success of African female students. Participants in this year's tour came from eight African countries and included sophomores, juniors and seniors.

Frederick Ndip is a Mshale Contributing Writer. A native of Cameroon, he is a Community Organizer and Activist who lives and works in the Minneapolis/St. Paul metro area.





(No Ratings Yet)


Loading...