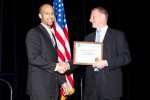 Daniel Getahun of the Minnesota International Center (MIC) has been recognized as "Programmer of the Year" by the National Council for International Visitors (NCIV) at its annual national Meeting in Washington, DC.
Getahun is the International Visitor Leadership Program (IVLP) manager at MIC. IVLP is a U.S. State Department-sponsored exchange program for mid-career professionals who have been identified by U.S. embassies around the world as emerging leaders in their fields.
NCIV and its local affiliates coordinate the foreign visitors' stays in the United States. In Minnesota, only the MIC works with the State Department on the program. Getahun's work is what has kept the State Department interested in Minnesota. His success in arranging professional appointments and dinner hospitality for these international visitors has been responsible for keeping the state, the Twin Cities and the MIC center stage with the State Department according to his boss, Carol Byrne, the president of Minnesota International Center.
"Daniel's innovative programming and attention to every detail for our U.S. State Department international visitors has ensured a quality experience and raised the profile of Minnesota throughout the world," Byrne said in an email interview.
Mr. Getahun who is of Ethiopian heritage was a math, social studies, and world religions teacher at a tuition-free college preparatory middle school in inner-city San Diego, California before he joined MIC in 2006. In a conversation with Mshale following his recognition at the national meeting, he said he preferred to think of it as recognition of Minnesota's interest in engaging with the world, as well as the quality and diversity of the local professional resources and citizen diplomats who participate in the exchange programs.
"My role in facilitating the program is simply not possible without the willing interest of several hundred nonprofit organizations, government agencies, schools, small business, large corporations, and individuals working in every professional field, including education, human rights, agriculture, media, public health, arts, social services, and more," Getahun noted. "I consider it an acknowledgment of the many hours and long days devoted to the program, but much more so I think the recognition reflects Minnesota's interest in engaging with the world."
International visitors who have been in Minnesota recently under the auspices of the IVLP have been varied. They include a multi-regional group for a program on Breast Cancer Awareness and Outreach, a group from Oman for a program on American libraries, visitors from Ecuador and the Galapagos Islands for a program on Sustainable Cities in Sensitive Environments. Also, as this edition went to press, a senior official at Kenya's Ministry of Foreign Affairs in Nairobi was being hosted by MIC to acquaint him with U.S. policies on immigration, refugees and citizenship.
To underscore the significance of the IVLP, US Senator John McCain who gave the keynote address at the annual meeting said he seldom travels to a country where IVLP alumni are not playing an important role in government or civil society. "Your work has been important for many years. The groundwork you have laid has been so important," Senator McCain said.
Editor's note: Mshale President & Publisher, Tom Gitaa, sits on the board of the Minnesota International Center.





(No Ratings Yet)


Loading...