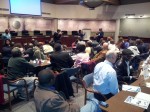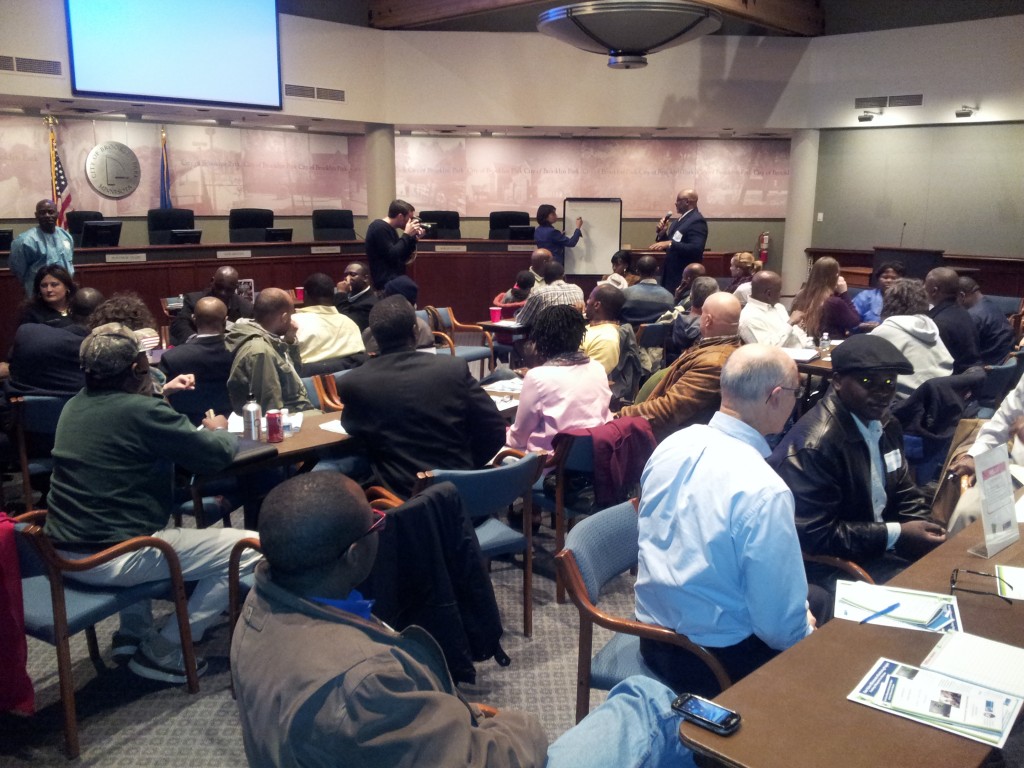 BROOKLYN PARK, Minn. – About 100 people packed the Brooklyn Park City Council chambers November 15 for One Voice Minnesota Monitoring Project: Creating a Blueprint for Welcome, an initiative of the Minnesota based The Advocates for Human Rights. The project which kicked off early this year is a fact-finding documentation project to combat anti-immigrant sentiment with a goal of creating long term policy changes that address root causes of inequity that immigrants and refugees face.
The project also aims to determine how immigrant experiences in Minnesota compare to international human rights standards.
The Wednesday event was organized by African Immigrant Services in collaboration with the project sponsors, The Advocates. This being a data collection exercise, the mostly African immigrant crowd shared their experiences on "how welcome they felt' in Minnesota. AIS executive director, Abdullah Kiatamba, said the exercise was an important one as the project would tell stories that "would otherwise go untold" and gave that as one of the reasons AIS chose to "intentionally engage" with The Advocates on the project.
After city employee, Elizabeth Tolzmann, assured participants that they can speak candidly despite being inside a government facility, participants went about the exercise with gusto after local Kenyan-American hip-hop artist Mobisa did an acapella titled "Give them a chance African children".
Experiences shared varied from racial insults hurled at some of them to those of gratitude to the embrace extended to new immigrants. Raymond Gwenigale, a twin Cities lawyer of Liberian descent was first to thank Minnesotans for the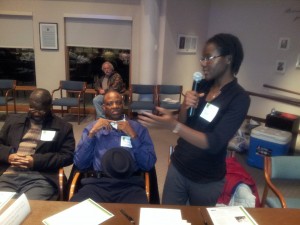 welcome extended to "our people", getting a second from Hassanen Mohamed, a Somali immigrant. Mr. Mohamed presented himself as exhibit A of the success that is possible in America, stating with passion that "I am the typical American dream" as he described his success in business and community involvement. He serves in a number of citizen led commissions in the City of Brooklyn Park.
Benard Muko, a candidate for a seat in the Brooklyn Park city council in the just concluded elections and himself an immigrant from Kenya, urged the African community to embrace life in America wholly in order to be successful. "We can't be here physically and our heart and mind elsewhere", he voiced incredulously.
But there are those who said that their desire to fully integrate to society is what gets them in trouble in the first place and exposes the racism that exists in Minnesota, sometimes from African Americans. Thro Nyumah, a US military veteran from Liberia shared during a group discussion his frustration with African Americans who would tell him to go back to Africa as he drove his ice cream truck through neighborhoods.
Despite the challenges, one Kenyan-American and a fixture in the community organizing community in Brooklyn Park, Irene Njoroge, said she is undeterred and encouraged the African community to get involved in local issues.
Mohammed Dukuly, an Imam at the Masjid An-Nur said his concern is with the parent-child relationship in the United States. Respect for parental authority is a challenge, he said as is the ability for African immigrants to adequately play their parental roles. This, he said needs to be addressed.
The One Voice Minnesota Monitoring Project report is scheduled to be released in early 2014 according to The Advocates for Human Rights.

Born and raised in Kenya's coastal city of Mombasa, Tom is the Founder, Editor-in-Chief and Publisher of Mshale which has been reporting on the news and culture of African immigrants in the United States since 1995. He has a BA in Business from Metro State University and a Public Leadership Credential from Harvard's Kennedy School of Government. He was the original host of Talking Drum, the signature current affairs show on the African Broadcasting Network (ABN-America), which was available nationwide in the United States via the Dish Network satellite service. On the show, he interviewed Nobel laureates such as 2004 Nobel Peace prize winner, Professor Wangari Maathai, the first woman from Africa to win the peace prize and heads of states. Tom has served and chaired various boards including Global Minnesota (formerly Minnesota International Center), the sixth largest World Affairs Council in the United States. He has previously served as the first Black President of the Board of Directors at Books for Africa. He also serves on the boards of New Vision Foundation and the Minnesota Multicultural Media Consortium. He has previously served two terms on the board of the United Nations Association. An avid runner, he retired from running full marathons after turning 50 and now only focuses on training for half marathons.





(No Ratings Yet)


Loading...