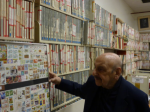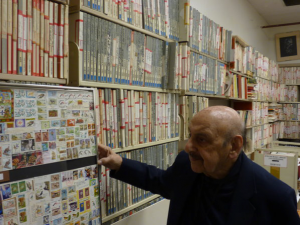 Leo Sarkisian was going to be an artist. Then his life took a major turn when he headed overseas, to remote corners of the world, to record previously unknown tribal music. He turned that into a decades-long run of hosting an African music show on Voice of America.
The man who founded Voice of America's "Music Time in Africa" program retired this past fall at the age of 91 after 47 years on air.
And while Leo Sarkisian may not be well-known in the United States, but in Africa, he is kind of a household name.
Sarkisian exudes the energy and enthusiasm of a man a fraction of his age. He sums up his improbable life by quoting an African proverb: "When door opens, go in."
And he did, again and again.
Growing up in an Armenian family in the immigrant city of Lawrence, Mass., where he was constantly drawing and taking art classes, Sarkisian got a scholarship to the prestigious Vesper George School of Art. During his childhood, he was surrounded by Middle Eastern music, playing the lute and bamboo flute with other Armenian musicians.
Full story @ PRI.





(No Ratings Yet)


Loading...