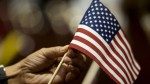 Senators are mulling making it harder for U.S. citizens to get visas for family members while easing the path for high-skilled foreign workers, a senator said.
"We're going to change fundamentally the immigration system," including tighter limits on family visas, Sen. Lindsey Graham, R-S.C., told The Washington Post.
"Right now you get green cards to adult children, to grandparents," Graham said. "What I want to do is reserve green cards based on the economic needs of the country, and we'll do something for families. But the goal for me is to replace a chained-migration immigration system with an economic-based immigration system."
The plans being considered by four Democratic senators and four Republicans would reverse policies that have been in place for generations.
The bill the group plans to release in early April is expected to serve as the template for a comprehensive immigration-reform deal between Congress and the White House.
The Obama administration has expressed support for the senators' general principles, the Post said.
About two-thirds of legal immigrants are currently admitted for family reasons and 14 percent for employment, the non-partisan Migration Policy Institute think tank says. The rest are humanitarian cases.
In the Senate discussions, Republicans would prefer to admit larger numbers of highly skilled workers, who would provide an immediate economic benefit and who business leaders say are in short supply, while Democrats generally want to give priority to family members of citizens and legal residents already in the country.
As the rules are now, spouses and minor children of citizens are given top priority. After this group, in order of priority, are unmarried children over age 21 and, lastly, married adult children and siblings.
The Senate proposal being discussed would eliminate the latter two categories, which account for about 90,000 visas a year, the Post said.
If those people wanted to apply for entry into the United States, they would need other qualifications, such as high-tech skills, to be approved for a green card, the senators involved in the negotiations say.
The senators stressed no final decision had been made.





(No Ratings Yet)


Loading...