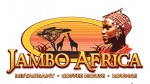 Jambo Africa Restaurant makes its official debut on Saturday, March 23 starting at noon through 9pm. Located in the same strip mall as the Brooklyn Center Target store, the Kenyan and Liberian themed eatery is already running under the management of George Ndege, he of Kilimanjaro Entertainment and Simone Acolatse, a native of Liberia . The latter started the establishment two years ago as Global kitchen and specialized in mostly West African cuisine.
After joining forces with Ndege, the two renamed the eatery Jambo Africa which translates to Hello Africa. Jambo is a swahili word. The restaurant now specializes in authentic Liberian and Kenyan cuisine.
Grand opening day offerings will include complimentary appetizers, wine-tasting, sampling of African coffee and tea, a display of African art and acoustic music, according to Ndege and Acolatse.
Featured wines will include South African varieties.
Jambo Africa Restaurant: 6000 Shingle Creek Parkway, Brooklyn Center, MN 55430; 763-561-0211 or Facebook/jamboafrica1. After Saturday's grand opening, hours will be Tue – Thu: 11:00 am – 8:00 pm, Fri: 11:00 am – 2:00 am, Sat: 11:00 am – 10:00 pm, Sun: 12:00 pm – 6:00 pm.





(3 votes, average: 4.67 out of 5)


Loading...