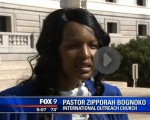 Media in Minnesota, home to the largest Somali community in the United States has expanded its already intense focus on the Somali community to the larger Kenyan community following the Westgate Mall terrorist attack over the weekend.
In Minnesota, the larger Kenyan community tends to operate outside the spotlight of the local mainstream media as they devote most of their time to their professional work. The Westgate mall attack however r has brought them out of the shadows. On Wednesday, they called a press conference at the Minnesota State Capitol to voice their condemnation of the attack where Pastor Zipporah Bogonko of the International outreach Church read a statement to that effect.
At the podium she was surrounded by a group of well known figures like Kenyan-American attorney Henry Ongeri, the Director of Pediatric emergency at Hennepin County Medical Center Dr. Andrew Kiragu as well as Pastor Peter King'oina formerly of Kenya Community Church in Brooklyn Center. Mshale publisher Tom Gitaa was also present and helped answer some of the media questions.
Below is some of the coverage by the Twin Cities media:
Kare 11 (NBC Affiliate) – Minnesota Kenyans condemn mall attack.
Fox 9 Minneapolis – Kenyans in Minnesota search for answers after Nairobi Mall shooting.
Startribune Newspaper – Minnesota's Kenyan communities denouncing terrorists (Video is here).
Prayer Rally
The Kenyan community in Minnesota will host a prayer rally on Saturday, September 28 to pray for Kenya and its people following the Westgate mall attack.
The rally starts at 5PM.
The rally will be held at the Miracle Empowerment Center located at  5801 John Martin Dr, Brooklyn Center, MN, 55337.





(No Ratings Yet)


Loading...