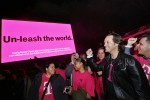 Starting Oct. 31, T-Mobile customers with its Simple Choice plans will be able to send text messages and access data for free in about 100 countries. They can also make calls for 20¢ per minute.
Only five African nations are in the 115 countries that T-Mobile announced in the program. The five are Egypt, Ghana, Kenya, South Africa and Zambia.
T-Mobile says that an AT&T (T) customer who would run up $1,500 for a mix of calls, data use, and texting in Europe would spend only $6.40 on T-Mobile. (While AT&T customers could cut that bill way, way down by signing up for temporary international plans, it would still be much more than T-Mobile's deal.) T-Mobile is also offering discounted calling and texting from the U.S. to those countries for $10 a month.
T-Mobile is offering only slower data services for free, which will likely prevent any lonely travelers from holing up in hotel rooms and binging on YouTube. It is selling faster data plans starting at $15 a day for up to 100 megabytes.
The company loses money on this: It will sacrifice the revenue it makes from international roaming while still having to pay the carriers its customers use while traveling. But this isn't a significant business for the company at the moment. International roaming costs made up 2.4 percent of T-Mobile's revenue last quarter.
Visit the T-Mobile website for more details.





(No Ratings Yet)


Loading...