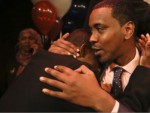 Abdi Warsame today (Nov. 5) became the first person born in Africa to become a Minneapolis City Council member. He beat incumbent Robert Lilligren handily to win the Ward 6 seat. Born in Somalia and raised in London, he is the executive director of the Riverside Tenants Association. The association advocates for the residents who live in the high rises in Cedar-Riverside area, home to many Somali-Americans.
He was the Democratic Farmer Labor (DFL) endorsed candidate. DFL is what the Democratic party is known as in Minnesota.
The Ward 6 boundaries were redrawn during redistricting and Warsame was active in urging the Minneapolis Charter Commission, that is responsible for detrmining where the different Ward's boundaries fall, to draw one that will ensure an East African immigrant will be elected. He becomes the first beneficiary of that redrawing.
Somali professionals in Minnesota were early supporters of Warsame and ensured through their campaign contributions that he had the resources to compete. In a story by Mshale in early September, fundraising totals that the campaign is required by law to report, showed him among the most succesful fundraisers, catapulting him to the top tier citywide of succesful fundraisers.
A new wrinkle in Minnepolis elctions this year was the introduction of Ranked Choice Voting which allowed voters to choose up to three candidates in the chocie of mayor, city council member and Park Board elections, in order of preference.
As of the posting of this story at 11:30 PM CST, Warsame was the first choice preference of 64% of the voters while 32% went for the incumbent Lilligren. 42% chose Warsame as their second choice while 28% chose Lilligren as their second choice.
Results from the citywide elections indicate Warsame will be joining one of the youngest City Council group in recent memory with most of them in their 30s and early results showing half of the incumbent council members seeking reelection voted out.





(7 votes, average: 4.14 out of 5)


Loading...