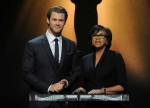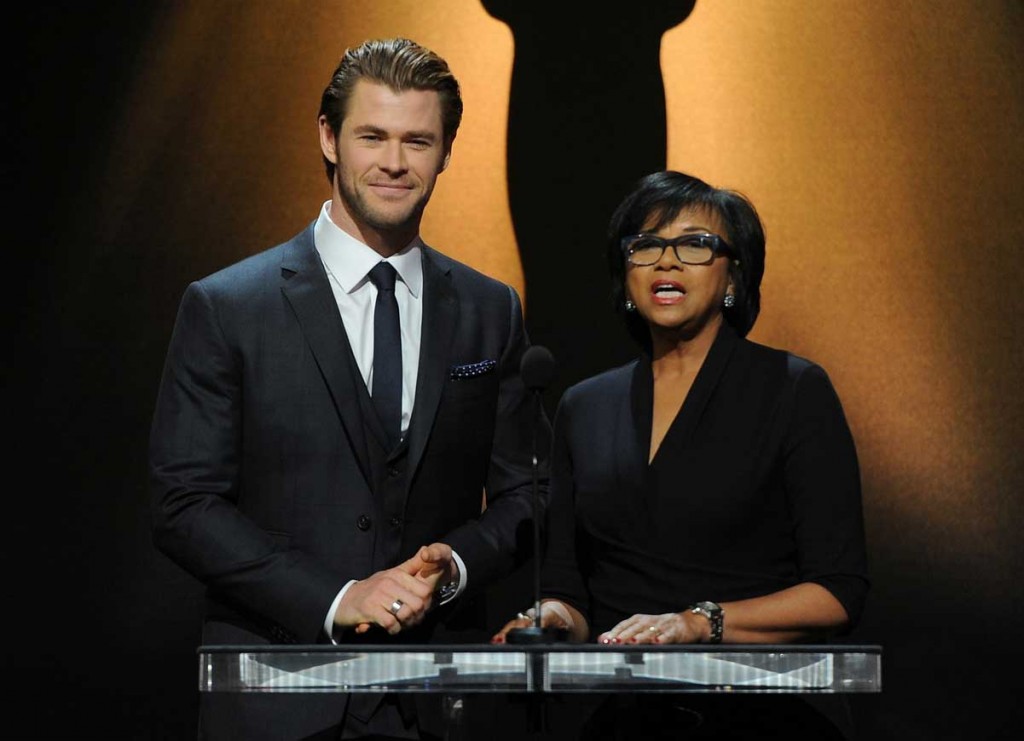 This year, Africans and Diaspora Africans across the globe have more of a reason to follow Hollywood movie awards than in any other year. In the past, when Africans watched movie award shows such as the Golden Globes, Screen Actors Guild Awards (SAG) or the Academy Awards – they hardly saw African faces, much less African nominees. Africa was often represented by non-Africans. It seemed that the glitz and glamor of the Hollywood runway, was  not  a space for Africans. In an industry where there are already limited roles for  minorities, African immigrants, children of African immigrants, Africans faced big challenges in finding roles that highlighted their talent. In recent years, there have been widely written about advances in the African  film industry. Africa now has larger film industries such as Nollywood, continent wide and regional award shows, and being an actor or actress is a more viable careerchoice then in was in the past. Now,  Africa is also making its mark on Hollywood.
Certainly, Africa has its own film industry awards and should not be seeking validation from the Global North on who it considers to be its top talent. The African Movie Academy Awards (AMA) have made a large and lasting impact on the continent by recognizing top talent in Africa across nations. They now currently in its 10th year and continue to be dedicated to recognizing the continent's best actors and actresses, and films. The AMAA award though, which honors artists in young movie industries, does have the international stature of their American counterparts. This, of course, is understandable since Hollywood is the worlds oldest movie industry and many of its awards ceremony's are older then many African nations themselves.  They are therefore characterized by intense competition, bigger budgets, American tastes and a large international market. Therefore, Hollywood is a tough and competitive  space for foreigners, much less Africa to gain visibility. Therefore, it is still an important to take note when Africans in the Diaspora make headway in this seemingly impenetrable American movie industry.
The American award shows largely celebrate American actors and actresses and films. Therefore few foreign films, outside outside of the 'Best Foreign language' film categories, feature.  Additionally, few foreign or immigrant actors/actresses feature outside of this category from any country. There is also little room for diversity in Hollywood. There are a few roles written for minorities in general  – much less African ones. It is largely a white American space where minorities, immigrants, children of immigrants, and foreigners struggle to get visibility. Therefore the unmistakable presence of Africa and Africa's Diaspora at the Golden Globe Awards show which aired this past Sunday, is to be celebrated. Africa was represented by films who's setting was on the continent and by actors/actresses who are directly connected to the continent. Therefore, this year is starting out to be the year for Africa in Hollywood.
Africa at the Golden Globe Awards:
This year marked a remarkable Golden Globe for Africa. For the first time, there was the noticeable presence of African actors and actresses at the awards ceremony. Although other Africans such as Sophie Okonedo (Nigeria), Djimon Hounsou (Benin), Gabourey Sidibe (Senegal), have been nominated. Charlize Theron (South Africa) has been the sole winner from Africa who has been nominated and won.  This year, African presence from first generation Diaspora Africans was clear. Amongst those nominated included Chiwetel Efiojor, Lupita N'yongo, Idris Elba, and Barkhad Abdi. Africa was represented by the following actors:
Chiwetel Efiojor – Efiojor was born to Nigerian parents in England – his father was a Doctor and his mother a pharmacist. His sister, Zain Asher, also has a career in front of the camera where she works as a CNN financial news correspondent. Efiojor is a five-time Golden Globe nominee who began his career at Dulwich College and subsequently joined the National Youth Theatre. Efiojor who should be familiar to many Africans. In his extensive career, he has starred in many quality films such as Amistad (1997), Dirty Pretty Things (2002), and Children of Men (2006). This year he was nominated in the following categories:
'Best Performance by an Actor in Motion Picture – Drama" – 12 years a Slave (2013).
'Best Performance by an Actor in a mini-series or motion-series or motion picture made for television' – Dancing on the Edge.
Idris Elba – Elba was born to a Sierra Leonean father and Ghanaian mother in England. His father worked in the factories and his mother worked in administration. Elba started his career working as a DJ for his uncles company until he branched off to own his own DJ company. His first acting role was in the series Absolutely Fabulous. Fans will recognize Elba from his role in movies such as Tyler Perry's Daddy's Little Girls (2007), Thor: The Dark World (2013), and television shows The Wire and Luther. He was nominated in following categories:
'Best Performance by an Actor in Motion Picture – Drama" – Mandela: Long Walk to Freedom (2013)
'Best Performance by an Actor in a mini-series or motion-series or motion picture made for television' – Luther.
Lupita Nyong'o – Nyong'o was born to Kenyan parents in Mexico. She is the daughter of Kenyan politician Peter Anyang' Nyong'o and Dorothey Nyong'o. Her aunt, Isis N'yongo is one of the most powerful women in the Tech world regularly appearing on Forbes list of powerful women in Africa. She is a newcomer to the film industry having recently graduated from the University of Yale with a Masters in Fine Arts but has worked as part of production crew for several Hollywood movies. East African fans may recognize her from her role in the Kenyan series, Shuga. She was nominated in the following categories:
'Best Performance by an Actress in a Supporting Role in a Motion Picture' – 12 Years a Slave (2013)
Barkhad Abdi – Abdi was born in Somalia to Somali parents. He grew up in Somalia, Yemen and later moved to Minnesota in the United States of America. He is an alumni of the Minnesota State University Moorhead and had no formal acting experience before being selected for the role he was nominated in. He was nominated in the following category:
 Best Performance by an Actor in a Supporting Role in a Motion Picture –Captain Phillips (2013)
Its an Honor Just Being Nominated…
Although none of this years African nominees won an individual Golden Globe, the old cliche 'its an honor just being nominated' holds true. These actors and actresses can now add 'Golden Globe nominee' to their resume, which in itself is an accolade in a competitive industry. These celebrities have proven that they are amongst the best in the world.  In Africa's favor, the movie 12 Years a Slave (2013) in which both Efiojor and Nyong'o starred did win a Globe in the category of "Best Motion Picture – Drama". Although its setting was not on the continent, it bears  a torch for  Africa by telling the story of Africans. The fate of enslaved Africans in America and their experiences adjusting to their new world under deplorable conditions, is the story of Africa and Africans.  The movie itself, was directed by Steve McQueen, who was born in England to parents from the Caribbean island of Grenada (where large numbers of  enslaved Africans were brought). Also representing Africa was the filmMandela: Long Walk to Freedom (2013) which was about one of the most famous African leaders in our time, former South African president, Nelson Mandela was nominated in two categories for the song "Ordinary Love":
Best Original Song (nominee – U2)
Best original Score (nominee – Alex Heffes)
The Group U2, which is led by African aid advocate Bono, won in its category as well. Although arguably not 'African' another notable mention needs to be made for Don Cheadle, an American Hollywood celebrity that has strong ties to the continent. Fans will recognize the former Hotel Rwanda (2004) star not only for his role in the movie, but also because he has continued his relationship with the continent. He deserves a notable mention here because he didn't just star in a movie about Africa, adopt a couple of babies and do a photo op but he has continued a relationship with Africa. Cheadle is one of the few celebrities that have taken their DNA swabs in order to locate his African roots, runs the charity program 'Ante for Africa' , and is a United Nations Ambassador. He was awarded a Summit Peace Award by the Nobel Peace Prize Laureates for his work in Rwanda and Dafur, Sudan. He was nominated for Best Performance by an Actor in a Television Series – Comedy or Musical, a category in which he won the award last year. Although not wearing an African inspired gown, Africa was well represented on the runway by Nyong'o who made many 'best-dressed' lists in her striking red gown (incidentally, red is one of the colors of the pan African flag although this color choice was probably a coincidence)

Africa at the Screen Actors Guild Award
Not to be under-stated, all of the actors have also been nominated for the upcoming Screen Actors Guild Awards (SAG) that are scheduled for Saturday, January 18th, 2014. Although the SAG awards are not as well-known as the Golden Globe or Academy Awards (Oscars), they are important to actors/actresses in the industry because they represent accolades directly from their acting peers who cast the deciding votes. In this years SAG awards: Efiojor was nominated for both 'male lead', and 'cast' for 12 Years a Slave; N'yongo was nominated for 'female support' and 'cast' for 12 Years a Slave; and Abdi was nominated for 'male support' for Captain Phillips.  Joining this list of nominees are: Adepero Oduye, who was born in the US to Nigerian parents, graduated pre-med from Cornell University, and was nominated in the category of  'cast' in 12 Years a Slave (2013); and David Oyelow, who was born in England to Nigerian parents, attended the London Academy of Music and Dramatic Art  and was nominated in the category of 'cast' in Lee Daniels'The Butler (2013). In addition, the movie 12 Years a Slave has also been nominated for 'Outstanding Performance by A Cast' — equivalent to the Golden  Globes Best Picture category.
Oscar buzz
The second reason that the SAG award nominations and awards are important is because they are considered a precursor the coveted Oscars, which are arguably the most prestigious awards in the industry. Typically, those that are nominated for or win at SAG are the front runners at Oscars.  The Academy Award nominee announcements come at the heels of both the Golden Globes and SAG awards. They are announced on January 16th, 2014 and they will air on March 2nd 2014. Without doubt, the nominations will include some of these talented Africans from Africa's Diaspora. Africans and Africa enthusiasts and fans should cross their fingers for  Ejiofor, Nyong'o, Abdi, Elba, Oyelow, or Oduye to snag an award or nomination at this prestigious industry award as well. There is little doubt  that many Africans in the Diaspora and on the continent will be hoping for the Oscar nod for these talented individuals and cheering on the African Diaspora actors and actresses during the upcoming awards ceremonies.
In a world where African Diaspora youth continue to be discouraged from pursuing acting (in favor for more 'practical' career paths), their presence may inspire a new generation of African actors in the Diaspora – and on a continent that is impacted by Hollywood.  Due to the accolades Africans are receiving at the Golden Globe and SAG awards, they are already impacting Hollywood and proving  that 2014 is the  year for Africa in  this film industry.
Sitinga is a scholar in African Studies, blogger, researcher and analyst on African topics. She has worked worked in non-profit, healthcare, development, and education organizations. She is on the board of the Malawi Washington Association. She has lived in Germany, South Africa, Malawi, and the United States. She enjoys a good book, watching international cinema, chess, board games, poetry, and of course, blogging. Topics of interest include socio-economic development, nation-branding, tourism, image, identity, and the global political economy.Catch her blogging at rebrandafrica.org (@africarebrand) and dualcitizenshipmalawi.org. On Twitter? @MsTingaK





(No Ratings Yet)


Loading...