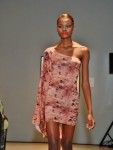 Sustainable. Sexy. Eco-friendly. Ethnic.
These are words that usually don't go together when describing fashion design, let alone fashion from Africa. But those were the underlying motivations for the National Museum of African Art's "Earth Matters, Fashion Matters," a showcase of ecologically inspired, ready-to-wear designs by eight African designers based in Africa, New York and Europe.
The Feb. 23 evening event celebrated the closing of the exhibit "Earth Matters: Land as Material and Metaphor in the Arts of Africa" and also observed the museum's 50th anniversary.
"When you talk about eco-friendly fashion, you usually think of a burlap sack," said Kibonen Nfi of the Kibonen NY fashion line. The Cameroonian designer took the theme of the showcase to heart, not only using slinky bamboo fabric to create her outfits but also literally including one of the main pieces of the exhibit in her clothing.
Nigerian artist George Osodi's "De money series no.1," a terracotta-hued archival print became the pattern on a sheer shift by Kibonen.
"I took one of the main pieces in the show and digitized it onto the fabric," she said. "It's how I made eco-friendly fabric more sensual using bamboo jersey to accentuate the silhouette."
Each of the featured designers used their own unique approach to addressing the need to preserve the African environment while also making a statement about social justice in a place where many transgressions jeopardizing the future of the land are ever-present. Issues surrounding conflict diamonds, mineral mining and environmental pollution create the headlines of today's Africa.
Patience Torlowei, a Nigerian designer whose company, Patience Please, is headquartered in Lagos, created pieces that incorporate natural elements such as daisies and butterflies in a youthful, flouncy dress she called "Daisy."
But the centerpiece of her collection was a long, hand-painted gown that served as a narrative of African ecological woes, from the pollution of the Niger Delta by oil refineries to the impact on the wildlife and the people who depend on it for sustenance.
"Beauty has a price," she said while explaining the motifs of a gown she named "Esther," after her late mother. "I included gold to celebrate the 50th anniversary of the Smithsonian, and also a diamond, which both come out of Africa."
The signature gown was produced in a limited edition of five dresses.
South African designer Thula Sindi, approached the issues surrounding South African mining in a unique slant to his line. Using metallic fabrics and shiny sequins on distinctly non-African designs, Sindi said, "I don't like boxing myself in. I design with any kind of theme, even Victorian and Japanese. But the history of the [South African] mines is so negative, I didn't want to make that obvious.
"My pieces are dark, basic fabrics with embellishments; copper, gold and diamonds because those things are still being mined in South Africa," explained the designer, who started his career as the director of a Dutch fabric company. "I also took the industrial nylon that the miners used and glamorized it for contemporary uses."
Other participants in the show adhered to the theme in less overt ways. Sierra Leonean designer Tamu Thomas expressed her dedication to sustainability in her London-based fashion brand Kenema through the use of materials produced by women in her home country.
"The war in Sierra Leone had such a huge impact, the whole country has PTSD (post-traumatic stress disorder)," she said. "I wanted to empower individual women to realize that they don't just make things, they have a business.
"My clothes are young, fresh, London," she added. "Sierra Leone is a small country without much money, so I didn't want to be colonial. I want to uplift the women and make it possible for them to care for families. I want to make it possible for women to sustain themselves."





(No Ratings Yet)


Loading...