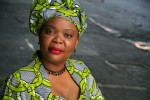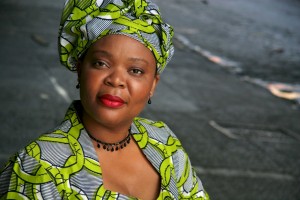 Leymah Gbowee, Liberian peace activist and 2011 Nobel Peace Prize winner is the keynote speaker this coming Sunday, March 9 at the Nobel Peace Prize Forum's 'Global Day', being held at the University of Minnesota's Tedd Mann concert Hall at 4:15PM.
Gbowee was awarded the Nobel Peace Prize in 2011 for her "non-violent struggle for the safety of women and for women's rights to full participation in peace-building work." Gbowee advanced the peace process and worked to facilitate free elections in 2005 via a women's peace movement that aided in ending the Second Liberian Civil War in 2003. She is the co-founder of the Women Peace and Security Network Africa (WIPSEN-Africa).
This is the 26th annual Nobel peace Prize Forum. It is the Norwegian Nobel Institute's only such program or academic affiliation outside of Norway and brings Nobel Peace Prize winners, civic leaders, and scholars together with students and other citizens. This year's forum started March 1 on the campuses of Augsburg College and the University of Minnesota West Bank and consisted of an address by the Dalai Lama.
Leymah Gbowee's keynote address will close out the 2014 Forum.
Tickets and information are available at the Nobel Peace Prize Forum website.

Born and raised in Kenya's coastal city of Mombasa, Tom is the Founder, Editor-in-Chief and Publisher of Mshale which has been reporting on the news and culture of African immigrants in the United States since 1995. He has a BA in Business from Metro State University and a Public Leadership Credential from Harvard's Kennedy School of Government. He was the original host of Talking Drum, the signature current affairs show on the African Broadcasting Network (ABN-America), which was available nationwide in the United States via the Dish Network satellite service. On the show, he interviewed Nobel laureates such as 2004 Nobel Peace prize winner, Professor Wangari Maathai, the first woman from Africa to win the peace prize and heads of states. Tom has served and chaired various boards including Global Minnesota (formerly Minnesota International Center), the sixth largest World Affairs Council in the United States. He has previously served as the first Black President of the Board of Directors at Books for Africa. He also serves on the boards of New Vision Foundation and the Minnesota Multicultural Media Consortium. He has previously served two terms on the board of the United Nations Association. An avid runner, he retired from running full marathons after turning 50 and now only focuses on training for half marathons.





(No Ratings Yet)


Loading...