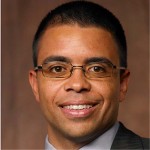 By Humberto Sanchez and Niels Lesniewski
Seven Senate Democrats joined Republicans to block President Barack Obama's pick of Debo P. Adegbile to lead the Department of Justice's Civil Rights Division amid a controversy over his legal defense of convicted cop killer Mumia Abu-Jamal.
Adegbile is the son of a Nigerian father and an Irish immigrant mother.
Adegbile's nomination needed a simple majority to cut off debate but the chamber voted 47-52 against him, with Obama ripping the vote as a "travesty."
Democrats Bob Casey of Pennsylvania, Chris Coons of Delaware, Joe Donnelly of Indiana, Heidi Heitkamp of North Dakota, Joe Manchin III of West Virginia, Mark Pryor of Arkansas and John Walsh of Montana all voted no. Majority Leader Harry Reid, D-Nev., also voted no in order to preserve his right to reconsider the vote. If Adegbile had mustered just two more votes plus Reid, Vice President Joseph Biden was on hand to cast a possible tie-breaking vote.
It's the first presidential pick to be blocked since Democrats changed the Senate's rules via the "nuclear option" to block filibusters of nominees.
President Barack Obama called the vote "a travesty based on wildly unfair character attacks against a good and qualified public servant."
Obama said Adegbile had impeccable credentials and "unwavering dedication to protecting every American's civil and Constitutional rights under the law."
"Mr. Adegbile's personal story – rising from adversity to become someone who President Bush's Solicitor General referred to as one of the nation's most capable litigators – is a story that proves what America has been and can be for people who work hard and play by the rules. As a lawyer, Mr. Adgebile has played by the rules. And now, Washington politics have used the rules against him."
Powerful law enforcement groups and Republicans opposed the nomination, with the Abu-Jamal case at the heart of the controversy.
Obama mentioned the issue but not by name.
"The fact that his nomination was defeated solely based on his legal representation of a defendant runs contrary to a fundamental principle of our system of justice – and those who voted against his nomination denied the American people an outstanding public servant," Obama said.
The nomination also has exposed the political risk for Democrats of deploying the nuclear option.
Sarah Chacko contributed to this report.





(No Ratings Yet)


Loading...