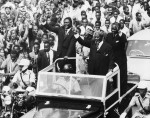 Hundreds are expected at Parkers Park Community Playfield in Plymouth this Sunday, June 1,  as Minnesota's Kenyan-American community celebrates Madaraka Day, which marks the day Kenya attained internal-self rule from the British on June 1, 1963 in the run-up to full independence on December 12, 1963.
This will be the 51st celebration by independent Kenya. The Minnesota event will feature soccer, music and children's activities and "lots of food", according to the organizaing committee.
Activities will begin at 1:00 P.M. on Sunday and conclude at 7:00 P.M.
Mwanyagetinge Foundation which draws membership from the Gusii community of western Kenya is the lead organziation organziaing the celebration, in collaboration with other Kenyan associations in the state including AKIA, GOTABGAA, MEGA and KCM. The annual Madaraka day celebration draws visitors from around Minnesosta and surrounding states.
By good timimg of the calendar this year, Kenyans in Minnesota will be able to celebrate Madaraka day the same day as people in Kenya. It is a public holiday in Kenya but diaspora Kenyans have traditionally celebrated it the first weekend following the actual June 1.
Minnesota is home to over 10,000 Kenyans, among the largest in the United States.
Madaraka Day in Minnesota
When: June 1, 2014
Time: 1:00 P.M. – 7:00 P.M.
Location: Parkers park Community Playfield, 15505 County Road 6, Plymouth, Minnesota

Born and raised in Kenya's coastal city of Mombasa, Tom is the Founder, Editor-in-Chief and Publisher of Mshale which has been reporting on the news and culture of African immigrants in the United States since 1995. He has a BA in Business from Metro State University and a Public Leadership Credential from Harvard's Kennedy School of Government. He was the original host of Talking Drum, the signature current affairs show on the African Broadcasting Network (ABN-America), which was available nationwide in the United States via the Dish Network satellite service. On the show, he interviewed Nobel laureates such as 2004 Nobel Peace prize winner, Professor Wangari Maathai, the first woman from Africa to win the peace prize and heads of states. Tom has served and chaired various boards including Global Minnesota (formerly Minnesota International Center), the sixth largest World Affairs Council in the United States. He has previously served as the first Black President of the Board of Directors at Books for Africa. He also serves on the boards of New Vision Foundation and the Minnesota Multicultural Media Consortium. He has previously served two terms on the board of the United Nations Association. An avid runner, he retired from running full marathons after turning 50 and now only focuses on training for half marathons.





(No Ratings Yet)


Loading...