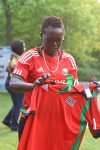 The sound of Afrobeat music could be heard against a backdrop of dancing men and women, in between the movements, small group conversations in Swahili and English took place as loud voices competed against the sound of music. In the same area children excitedly played volleyball, tag, and soccer. On the grill, the smell of nyama choma (grilled meat), filled the air for the annual Madaraka Day celebration on Sunday. The event marks Kenya's attainment of self-governance from British rule in the run-up to full independence six months later. Each year on the first of June, Kenyans at home and around the world gather to remember and celebrate the event.
Madaraka Day drew a diverse age group of Kenyans, some born in the United States, some are recent arrivals, while others have made a home in the country for decades. In Kenya, Madaraka Day is commemorated with official parades, performances, and televised live music in the nation's capital of Nairobi. In Minnesota, home to thousands of Kenyan community members, the day of remembrance was celebrated as a barbecue event in a quiet park located in a suburb north of the Twin Cities.
The free park event was preceded by a ticketed formal dinner the night before at a local hotel, keynoted by former Kenyan presidential candidate, Abduba Dida. Brooklyn Center mayor Mike Elliott also addressed the dinner gathering.
Madaraka Day provides an opportunity for members of the community who haven't seen each other over long periods of time to reconnect. "Today's my first day" said Gideon Machoka a Minnesota Kenyan-American transplant to Alabama. He attended the event after being invited by local friends and was drawn further by the food.
Celebrating the event is a tradition for Lorna and Becky Biyogo who have been commemorating Madaraka Day since early childhood in Kenya. For Becky Biyogo, the event is a "time to come together and celebrate our culture and what we had when we were in Kenya". Attendees like Pius Raini, have been celebrating in the United States for over three decades. Raini has collected many memories over the years, his favorite occurring two years ago when the Kenyan ambassador to the United States attended. "It was very memorable" Raini said.
The word Madaraka translates to freedom in Swahili but for Kenyans abroad it holds a much greater meaning. To Mrs. Murugi Waititu, Madaraka Day, "is a time for the Kenyan community to come together. Connections. Getting to know each other celebrating." Waititu has previously been involved in the planning of the event for the past ten years after establishing residency in the U.S. twenty years ago. She is also  chair of the Kenyan Women in Minnesota (KWIM) organization in Minnesota. The non-profit works to bring women together around common issues related to education, health, family and finances. Every year they host a dinner to celebrate and empower the community.
As the Kenyan community continues to grow and establish roots in Minnesota, Madaraka Day is an event that will be celebrated for many more years to come.
Gloria Makori contributed to this story.
Cynthia is a graduate of the University of Minnesota School of Journalism. She has interned at Mshale and Voice of America and previously worked at the Minnesota Daily. She recently returned from Seoul, South Korea where she was an English educator.





(No Ratings Yet)


Loading...