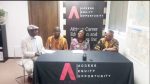 BROOKLYN PARK, Minn. (Mshale) – The Liberian community today praised yesterday's passage of the Dream and Promise Act by the US House of Representatives. The bill offers a pathway to citizenship for more than 2 million undocumented immigrants, including Liberians who are on "Deferred Enforced Departure (DED)."
The text of the bill that passed 237 to 187, including seven Republicans, reads as follows, "DHS or DOJ shall cancel removal proceedings against certain aliens who qualified for temporary protected status or Deferred Enforced Departure status on certain past dates (both statuses temporarily protect covered aliens from removal). For such aliens who apply, DHS shall grant permanent residence status. When DHS eliminates temporary protected status for nationals of a foreign country, it shall report to Congress its reasons for doing so."
At a press conference this morning, Brooklyn Park Council Member Wynfred Russell, called passage of H.R. 6 "historic" and said eventual passage of the bill by the Senate will bring stability to the community.
"We cannot keep having these annual extensions as it brings a lot of anxiety for our people each time," Russell said. "This is an important milestone but we still have a lot of work to do."
Addressing the media along with Russell were George Wonlon, executive director of the Liberian Ministers' Association; Georgette Gray, executive director of the Organization of Liberians in Minnesota executive director as well as Father George Wilson, a member of the Liberian clergy in Minnesota.
Wonlon said he has faith the bill will pass in the Republican controlled Senate where it faces an uncertain future.
"The republicans will not be a problem, because this is a morally right thing to do and these are conservatives that believe in values, and should be easy for them to handle," Wonlon said.
Speaker Nancy Pelosi expressed similar views yesterday following passage of the bill when she said, "There should be nothing partisan or political about this legislation, we are proud to pass it, we hope, in a bipartisan way.""
Gray and Wilson pointed out the advantages of the Liberian DED situation now being part of the broader immigration debate as H.R. 6 includes DACA (Deferred Action for Childhood Arrivals). "It adds more voices to the call for action," the two said. DACA benefits those who were brought to the United States as children. Obama granted work permits to the children under DACA but president Trump upon taking office ended the program in 2017.
According to H.R. 6, Liberians under DED will be eligible to immediately apply for green cards if they have been in the United States for at least three years and had their DED as of September 2016 and pass the required background checks. Five years after receiving their green cards, Liberians will be able to apply for citizenship.
'We have to close ranks, work together as this bill goes to the senate so that we make sure it passes and goes to the president for his signature," said Russell.

Born and raised in Kenya's coastal city of Mombasa, Tom is the Founder, Editor-in-Chief and Publisher of Mshale which has been reporting on the news and culture of African immigrants in the United States since 1995. He has a BA in Business from Metro State University and a Public Leadership Credential from Harvard's Kennedy School of Government. He was the original host of Talking Drum, the signature current affairs show on the African Broadcasting Network (ABN-America), which was available nationwide in the United States via the Dish Network satellite service. On the show, he interviewed Nobel laureates such as 2004 Nobel Peace prize winner, Professor Wangari Maathai, the first woman from Africa to win the peace prize and heads of states. Tom has served and chaired various boards including Global Minnesota (formerly Minnesota International Center), the sixth largest World Affairs Council in the United States. He has previously served as the first Black President of the Board of Directors at Books for Africa. He also serves on the boards of New Vision Foundation and the Minnesota Multicultural Media Consortium. He has previously served two terms on the board of the United Nations Association. An avid runner, he retired from running full marathons after turning 50 and now only focuses on training for half marathons.





(1 votes, average: 5.00 out of 5)


Loading...