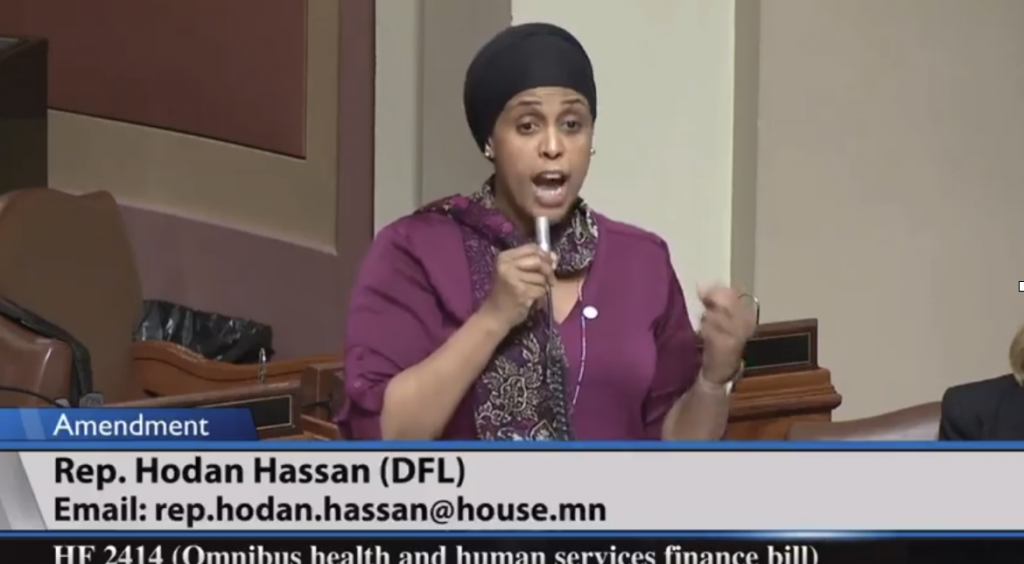 Hodan Hassan, a Democrat, represents District 62A in the Minnesota House of Representatives.
I ran for office because I saw our state coming up short on sustainable, equitable investments in housing, education, healthcare and mental health. This year, in one of the nation's only divided state legislatures, we worked together and found common ground to pass a two-year state budget that will lift up our communities and make our state an easier, better place to live for all Minnesotans.
This year's budget is just one step on a longer road toward a more prosperous, more equal Minnesota where gender, race, zip code, mental health, and income don't determine a person's ability to succeed. One of my major accomplishments toward that goal was nearly $20 million secured in the jobs bill for equity funding in workforce development. The funding will go toward various community organizations and programs that seek to train workers, help low-income individuals obtain economic security, and eliminate racial disparities.
Too many students and families across Minnesota don't have a safe, reliable place to rest their head at night. Housing is interconnected with nearly all areas of life – it is crucial for a person's ability to hold a job, seek an education, preserve their health and maintain relationships. Yet, for years under House Republican control, the legislature hasn't had a committee dedicated to housing. As a member of this year's Housing Committee created under DFL leadership, much of my work focused on protecting tenants' rights and expanding access to affordable and safe housing. And I'm proud to say that our work paid off. Our final housing bill provides a historic $15 million in additional funding for housing programs over the next two years. While this bill is a good start, we have a long way to go to ensure affordable housing for all in Minnesota.
Homework Starts with Home is a collaborative effort and a community-centered approach to connecting families with direct housing rental assistance and improving collaboration between schools, housing providers, and services. We also dedicate resources to a homeownership program, manufactured home park infrastructure, and rental assistance for individuals with low incomes or mental illness.
The House DFL successfully worked to prevent Republican cuts to education, securing four times their proposed funding level, which would have set our schools further behind after accounting for inflation. Our budget makes investments in our teachers, students and schools so we can prevent further cuts, layoffs, larger class sizes and higher property taxes.
We know that all of our children deserve a great education, no matter where they live in our state. We also know that our kids start learning long before kindergarten – and that Minnesota suffers from one of the largest achievement gaps in the country. The House DFL successfully protected access to voluntary pre-k for our youngest learners to make sure every child gets off to a great start.  In the end, our education budget was a bipartisan compromise. There's more work to do to make sure every student has access to a world-class education.
We worked to ensure all Minnesotans can afford their health insurance premiums, prescription drugs, and actually get the care they need when they need it. While Republicans stood with insurance companies, Big Pharma, and corporate special interests, the House DFL stood with Minnesotans because we believe that everyone deserves access to affordable health care.
By not allowing a sunset on the provider tax, we permanently restored funding for healthcare for over one million Minnesotans who can't afford the soaring costs on the individual market. We held Pharmacy Benefit Managers accountable, which serve as a middle man that has been allowed to drive up prescription drug costs. As other states pass onerous restrictions on women's health care, House DFLers resisted Republican attempts to interfere with these rights. Women's health care decisions should, and will, stay between women and their doctors, not politicians and employers.
We made great progress this session, after years of irresponsible Republican budgeting that put our children and most vulnerable Minnesotans at risk. We have a long way to go towards holding corporations and those at the top accountable for contributing their fair share. I will continue to fight for my long-term goals of increasing renter protections, increasing the teachers of color and indigenous teachers to ensure teachers reflect the diversity of the students they teach, and equity in economic development. As a mental health provider, I will continue to fight for school-based mental health programs, job placement for people who struggle with mental health, and funding for the Family Tree Clinic, which will expand access to community health and education programs in Minneapolis.
It is my great honor to bring the voices of my community to the Capitol. I look forward to continuing to work together to make our state a better place to live and to make sure that all Minnesotans have an equal shot at success.
Representative Hodan Hassan, a Democrat, represents District 62A in the Minnesota House of Representatives where she was first elected in November 2018 becoming the second Somali-American woman to be elected to a state legislature.





(1 votes, average: 5.00 out of 5)


Loading...