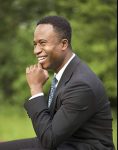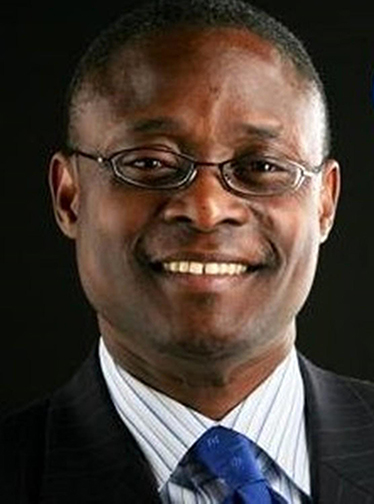 The groundbreaking victory during last week's midterms by Ilhan Omar as the first Africa-born black person to be elected to the United States Congress commanded the most attention for those outside the cities of Brooklyn Center and Brooklyn Park but in the two Brooklyns, a duo of two Liberian-Americans, Mike Elliott and Wynfred Russell, made history of their own. The two shook things up at the ballot box to overcome previous losses and join the two cities' city councils.
Mike Elliot, in his second try for mayor of Brooklyn Center beat the 12-year incumbent Tim Willson to become that city's first non-white mayor. In 2014 when he first ran, Elliott lost to Willson by 145 votes.
Elliot got his spark for politics while still in high school student when he walked to the Brooklyn Center City Hall to get a permit for a car wash to raise money for the senior prom.
"That was my first time seeing local government up-close," he said. He is now the mayor and has a few things he would like to do for his city.
Speaking with Mshale after the election mayor-elect Elliott said he was elated by his election as it signaled the city residents were ready for a change. He won with a convincing 54% of the vote. One of his priorities will be to focus on the vitality of the business community in Brooklyn Center. He is a small business owner himself.
"As you know Target is closing its Brooklyn Center store which is going to be devastating for our community," Elliott said. "I want to see how we can avoid such in the future."
Target announced in October that it will close its Brooklyn Center store in February for what it called "decreasing profitability." Elliott is concerned about a domino effect of other businesses closing shop in his city.
"We will involve the community in everything we do to increase the vitality and quality of living of our city," Elliott said.
The mayor-elect also expressed his wish to see 'sit-down' restaurants in Brooklyn Center which will make the city a destination point.
In neighboring Brooklyn Park, Wynfred Russell, convincingly won his race for city council in the West District by garnering over 55% of the vote to put behind him the experience of his last run in 2012 when he lost by five votes to the same candidate, he beat last week. The 2012 loss by five votes has since become a motivating factor for other candidates who use it as an example to warn against voter apathy and why every vote counts.
The election of Russell also makes him the second person of color to ever serve on the Brooklyn Park City Council following the election of Susan Pha two years ago.
In a post-election interview with Mshale, Russell attributed his win this time around to a winning coalition that brought together different voices and concerns into his campaign.
"We were able bring together a multigenerational, multiethnic coalition with shared values and concerns," Russell said. Those issues, Russell said, included affordable housing that includes both renters and home owners.
"We intentionally went out and expanded the electorate by reaching voters we didn't reach the last time," Russell said, referring to his arrow 2012 loss.
Russell said once he is sworn-in, he intends to focus on the issues that got him elected.
A fitness and outdoor enthusiast, Russell was animated and appreciative when asked about his reaction to the overwhelming voter approval of a $26 million bond referendum to upgrade the city's parks and building of new senior facilities and teen centers. The referendum passed with 62% (over 18,000 voters) voting in favor.
"That was a big thing for me as I think it's going to benefit our people greatly as a lot of the parks, which happen to be in my district, are in bad shape," said Russell.
Russell said other issues he intends to look into in collaboration with others in the council include youth engagement which ties in with the passing of the referendum. He said the voters overwhelming passage of the bond should make it easier to engage the youth with relevant activities to keep them engaged and active.
"I also intend to focus on the small businesses of which many are run by people of color and do not get the same tax breaks or incentives other big companies get from our city," he said. "But if we can get some grants to support them, the small business is the backbone of the economy and it will benefit our city if they thrive."
Russell said the Brooklyn Park Fire Department is understaffed and that it will also be a focus of his "but I will learn more when I get there."
Swearing In
Mayor-elect Elliott and Council Member-elect Russell will be sworn into office on January 7, 2019 at their respective city council meetings which begin at 7:00PM.

Born and raised in Kenya's coastal city of Mombasa, Tom is the Founder, Editor-in-Chief and Publisher of Mshale which has been reporting on the news and culture of African immigrants in the United States since 1995. He has a BA in Business from Metro State University and a Public Leadership Credential from Harvard's Kennedy School of Government. He was the original host of Talking Drum, the signature current affairs show on the African Broadcasting Network (ABN-America), which was available nationwide in the United States via the Dish Network satellite service. On the show, he interviewed Nobel laureates such as 2004 Nobel Peace prize winner, Professor Wangari Maathai, the first woman from Africa to win the peace prize and heads of states. Tom has served and chaired various boards including Global Minnesota (formerly Minnesota International Center), the sixth largest World Affairs Council in the United States. He has previously served as the first Black President of the Board of Directors at Books for Africa. He also serves on the boards of New Vision Foundation and the Minnesota Multicultural Media Consortium. He has previously served two terms on the board of the United Nations Association. An avid runner, he retired from running full marathons after turning 50 and now only focuses on training for half marathons.





(1 votes, average: 5.00 out of 5)


Loading...