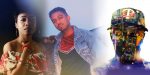 The Cedar Cultural Center in Minneapolis will present an African Diaspora Music Showcase featuring Carolyne Naomi, Temezgen, Amjet Kemet the Sunday after Thanksgiving on November 25. The three were supposed to perform as part of this year's Global Roots Festival in September but the outdoor show got rained out.
The concert is free and tickets can be reserved online at the Cedar website.
The Minneapolis-based Carolyne Naomi, who was one of the featured artists at last month's African Awards gala in Minneapolis, where she was well received, is a Lagos born and raised guitarist. She describes her style as a "culmination of different music I grew up listing to over the years: R&B and soul from the '80s era to present, pop, jazz, gospel, and Afro-beats."
Amjet Kemet is a Sudanese American hip hop artist and poet and co-founder of Nomadic Expressions Open Mic.
Temezgen, an Eritrean American RnB/Alternative singer-songwriter and producer from the Twin Cities rounds up the showcase.
The showcase is curated by Lula Saleh.





(No Ratings Yet)


Loading...