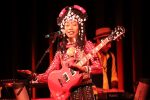 If you were at The Cedar for the music, on October 5th, you were happy. If you came to see dancing, again, you were happy. If you wanted your fix of gorgeous Malian dress, yes, you were happy.
Fatoumata Diawara had it all and more at her show on the evening of October 5. Over a dozen songs filled nearly two full hours of space along with a mini-preaching-to-the-choir chat about honoring our children and the value of education and empowering all people to achieve their potential.
Diawara delivered her message through powerful song, humor, intimate conversation—as intimate as she could muster on stage with hundreds of people in the audience, and dramatic, evocative dancing. The songs themselves are sung mostly in Bambara that few in the audience understood, but summarized in English so that we could grasp the intent during the songs themselves.
Diawara's outfit dazzled us as did her headwear. The patterns, colors, and material all worked in combination with her make-up and ornate jewelry to transport us out of Minnesota and into Mali.
By the fourth song, which she dedicated to "all the women in this crazy world" she fully turned on her own power and grooved on stage, embracing the audience with her performance. She sang about strength and emancipation, about "our truth" and the preciousness of children. When she pumped her arms upward, the lights responded with likewise flashing, modulating according to her signals.
She took a quick five-minute break as we listened to an instrumental piece from her band of Juan Finger: bass, Arecio Smith: keys, and Yves William Ombe Monkama: drums, percussion.
When Fatoumata returned to the stage, she'd shed her elaborate headgear and now wore a yellow-blond thick braid atop her head. She also held a small baton with a long dark shock of hair attached. As she danced, she'd loop the baton around her head and body often twirling around like an ice skater.
Half-way through her set list, Fatoumata gave a shout-out to Fela Kuti. She prefaced this talking about the rhythms of Senegal and the Gambia and Guinea. She especially mentioned Nigeria. "I just want to thank Fela Kuti for introducing AfroBeat to the rest of the world!"
The last part of her show relied on call-and-response from the audience as she urged us to "wake up" and be a change agent in the world.
She lamented Africa losing its soul, its distinctiveness, and culture. Then she put on a mask and a white flowing scarf and danced across the stage to a very appreciative audience.
The encore gave her a chance to call up friends and family, including her own mother, to dance along with her on stage as she sang and the band played. The energy rather than waning at the end of the show only ramped up. When the house lights came on two hours after the show began, few made a move toward the exit. Pictures, selfies, and excited chatter engulfed the room. We were all galvanized by the show.
Susan is based in Minneapolis and reports on general assignments for Mshale with a focus on entertainment. In addition to reporting, she is also a writer, poet, teacher and coach.





(1 votes, average: 5.00 out of 5)


Loading...